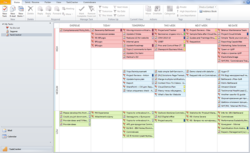 Visual management of tasks is what differs TaskCracker for Outlook from countless number of personal task management tools
(PRWEB) December 20, 2012
Since the very first release the key feature of TaskCracker for Outlook was visual management of tasks and email follow-ups from native Microsoft Outlook interface. Visual management of tasks is what differs TaskCracker for Outlook from countless number of personal task management tools.
"With the latest release TaskCracker for Outlook gets slick Outlook 2013 interface and now looks like an integral part of MS Outlook 2013. Also this release includes a bunch of user experience enhancements" says TaskCracker CTO.
"After only one day of working with the tool, it feels like it has always been a part of Outlook!" says Product Director and one of the early adopters of the tool who is using TaskCracker for Outlook to manage his work tasks for a couple of months now.
What made the tool special is using of Stephen Covey's First Things First time management approach as well as Eisenhower Matrix. Also it was inspired by Getting Things Done and Inbox Zero concepts. Using these popular methods forms a solid foundation for the tool.
Free 30-day trial is available for those who want to try new interface of TaskCracker for Outlook.
Get more information about TaskCracker here: http://www.taskcracker.com/products/taskcracker-for-outlook/
About the TaskCracker company
Since 2010 TaskCracker provides task and time management tools including "TaskCracker for Outlook", "TaskCracker for Gmail" and "TaskCracker Web" to boost personal productivity.
Contact TaskCracker Team at info (at) taskcracker (dot) com