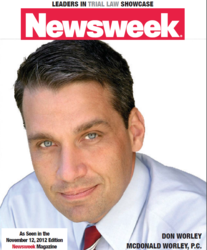 We fight so that our clients are not ignored, so that their voice is heard...
Houston, TX (PRWEB) December 17, 2012
Newsweek magazine has named Donald S. Worley of national law firm McDonaldWorley as one of the top trial lawyers in the U.S, announced by the firm. His work with personal injury, wrongful death, and medical malpractice lawsuits has been recognized as among the best in the nation according to the Nov. 2012 print special edition entitled, 'The Heroes Issue'. The mesothelioma attorney has helped victims and loved ones of people suffering from the asbestos caused cancer to find justice using the court system.
Honoring top professionals in their fields, the magazine recognized Mr. Worley as among the best and top in his profession. Mr. Worley's strong case record, legal victories and commitment to his clients' needs is something any professional should strive for.
In an interview, Mr. Worley had this to say, "I am pleased to have been recognized. Ultimately, I work so that the needs and concerns of my clients are not ignored; it is for them that we strive to be the best."
Asbestos caused cancer is all too common, with over 3,000 new cases each year being reported according to the American Cancer Society. A CDC malignant mesothelioma report revealed over 18,000 deaths from 1999-2005 resulting from the disease.The condition is a severe lung disease caused by prolonged exposure to asbestos. Though many asbestos products have been banned in countries all over the world, exposure from decades past may result in its occurrence in victims now. People who have been diagnosed with mesothelioma should speak to an attorney immediately.
Following diagnosis a meso lawyer can help:

Ensure medical needs are not ignored and are taken seriously
Seek lawsuit compensation sufferer may be entitled to
Fight to hold responsible parties accountable
"I treat people with respect, and give their concerns the commitment and attention they deserve. We haven't strived to win awards, we simply fight hard to do right by our clients," added Mr. Worley.
The law firm accepts clients nationally and is based in Houston, TX. People who have been diagnosed or families who have lost a loved one to mesothelioma are encouraged to contact the firm immediately, as time is limited to file a claim.
About McDonald Worley:
The injury law firm is now accepting clients nationwide. Experienced lawyers are standing-by ready to fight for justice.
To learn more about filing a mesothelioma lawsuit with one of the nations top trial lawyers, click here now to get a free legal case review: http://mcdonaldworley.com/mesothelioma-lawyer.htm