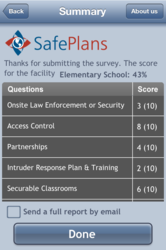 We want to engage parents, educators and law enforcement in a conversation about violent intruders and active shooters in schools
Jefferson City, Missouri (PRWEB) December 15, 2012
In support of efforts for communities to safeguard their schools in response to the tragedy at Sandy Hook, SafePlans, one of the nation's leading school security and emergency planning consulting firms, is making their iPhone Intruder Vulnerability Assessment app available for free.
"We want to engage parents, educators and law enforcement in a conversation about violent intruders and active shooters in schools" said Brad Spicer, president of SafePlans. "The app helps initiate conversations and situational awareness necessary to better protect our schools."
The first of its kind "Intruder Vulnerability Assessment" app is a component of SafePlans' Emergency Response Information Portal (ERIP) cloud homeland security solution and integrates with SafePlans Intruderology training program.
Developed by nationally recognized school security expert Brad Spicer, the ERIP Intruder Vulnerability Assessment is based upon national best practices and SafePlans' lessons learned. This innovative application allows users to quickly ascertain a solid overview of a school's vulnerability to an attack from a violent intruder.
The Intruder Vulnerability App can used alone or integrated into SafePlans' ERIP solution. ERIP is an all-hazards preparedness platform that enables users to conduct more comprehensive security assessments, develop all-hazards emergency plans, share tactical site mapping data with first responders and train staff via online training courses.
The report generated from the app includes a corrective action plan that is based on SafePlans' Intruderology program. The report helps stakeholders identify strengths, challenges and impediments to school's ability to protect students from violence. Intruderology is the first and only system that fully implements emergency response best practices with four-phases of emergency management to combat violent intruders.
Assessments and training programs conducted by SafePlans in 20 states, including two of the nation's 10 largest school systems, revealed that most educators and law enforcement personnel face challenges in fully understanding the many strategies that can assist schools in preventing and mitigating attacks from violent intruders. Because not all strategies provide equal protection, the ERIP Intruder Vulnerability Assessment app automatically assigns a unique weight or value to each of the 10 categories.
For example, because the presence of a trained law enforcement school resource officer (SRO) is far more likely to prevent or mitigate a violent attack than video surveillance cameras, the SRO score is given eight times the weight of video cameras. To help provide consistent scoring, the Intruder Vulnerability Assessment app includes a built in rubric with scoring examples. Spicer realizes that assessments cannot stop attacks. "Assessments are the proven method to identify strengths and deficiencies. This app can help unite stakeholders and initiate action."
The app is available for free download from the iTunes App Store. Intruder Vulnerability Assessments for faith-based organizations, healthcare, retail and corporate offices and Android versions are coming soon.
About SafePlans:
SafePlans is a national homeland security consulting firm that specializes in providing the technology, tools and training needed to prevent, mitigate, respond to and recover from incidents that impact daily operations. Through proven strategies, innovative thinking, and the latest technologies, SafePlans integrates emergency management and homeland security best practices to safeguard people and places.
Contact: Brad Spicer, CEO, SafePlans, LLC - brad (at) safeplans (dot) com - 573.636.5377
http://www.safeplans.com