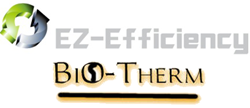 Tucson, AZ (PRWEB) December 17, 2012
The BiO-Therm is a laundry dryer designed specifically to reduce the natural gas consumption of commercial laundry dryers. The savings are significant and typically lead to a year or less return on investment. The BiO-Therm's use in the Hotel and Laundromat industries has proven its effectiveness in the most demanding settings, where customers have seen an average of 10-35% savings.
EZ-Efficiency is based in Sierra Vista Arizona, and has been manufacturing and selling the BiO-Therm for 5 years. Over this time they have documented savings upwards of 30%, to include testing with the Wetmore Holiday Inn Express in Tucson AZ where savings of 42% were recorded.
The BiO-Therm is an inexpensive energy savings product that is a simple add-on to commercial laundry dryers that makes them more efficient by leveraging EZ-Efficiency's gas stepping technology. EZ-Efficiency wants potential customers to know we stand behind our efficiency claims with our money back guarantee. This product works and substantial savings have been documented to include hundreds of installed dryers, and years of testing. These savings lend to an industry leading short return on investment, reduced overall net laundry facility costs, and a positive environmental impact.
EZ-Efficiency is looking for dealers to help promote the BiO-Therm. If you currently have customers with commercial laundry dryers, and want to help them reduce their energy costs while earning great money, please contact EZ-Efficiency today. All potential dealer inquiries should be made to Mark Seipke Email: mark(dot)seipke(at)ez-efficiency(dot)com or Phone 520-678-1809. Anyone interested in learning more about the BiO-Therm can visit http://www.ez-efficiency.com.
About EZ-Efficiency, LLC
EZ-Efficiency is owned and operated in Sierra Vista, AZ. We are a family owned business that is dedicated to helping our customers reduce their net facility energy costs. We have combine experience of over 50 years in automated facility management, environmental systems HVAC, and complex computer systems. We leveraged this experience to develop the BiO-Therm system, and have now deployed this technology to several hundred dryers nationwide.
Media Contact:
Lee Gorder
lee(at)ez-efficiency(dot)com
520-678-1809
http://www.ez-efficiency.com