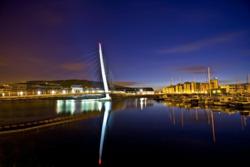 With so many new companies setting up there, the city looks set to become a hub for business start-ups in years to come
UK (PRWEB UK) 20 December 2012
Swansea: The third quarter of the year saw a rise in company formations in Swansea, according to the latest Duport Business Confidence Report for the city.
There were 299 new company registrations between July and September, which is a 9% rise on Q3 2011. This, together with a rise in UK company share, suggests the economy of Swansea may be recovering from the worst effects of the recession.
The rise company formation could be linked to the ongoing redevelopment of the area. The aim of the redevelopment is to transform Swansea into a leading European Waterfront City that will drive the local economy by attracting tourists and businesses.
Peter Valaitis, Managing Director of Duport.co.uk said:
"The redevelopment of Swansea is clearly having an effect on the local economy, as company formations have been rising steadily since 2008."
"With so many new companies setting up there, the city looks set to become a hub for business start-ups in years to come."
The Duport Business Confidence Report for Swansea provides detailed economic data on everything from company closures to business naming trends, helping to give an overview of the local economy. More information can be found at http://www.duport.co.uk/swansea.
Duport Business Confidence Reports are generated and released by Duport Associates Ltd. The data contained in these reports is assimilated and analysed by Duport using public record data from sources including Companies House, Office for National Statistics and Ordnance Survey. Duport Associates Ltd is a leading UK company formation agent, established in 1997 and registering around 10,000 new companies each year through its Companies House approved software.