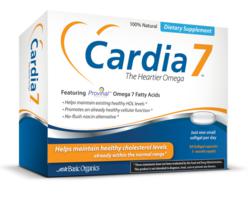 Chronic inflammation is the best predictor of heart disease and atherosclerosis. ~ Michael Roizen, MD
Cleveland, Ohio (PRWEB) December 17, 2012
More than 100 million people in the U.S. who are at high risk for heart attacks caused by metabolic syndrome and inflammation can now take "Cardia 7"--a purified Omega 7 supplement that has been clinically shown to reduce C-reactive protein (CRP).
The number one killer in the US -- heart attacks -- is no longer best predicted by cholesterol or triglycerides, but by inflammation. It's estimated that 2,200 people die every day from cardiovascular disease, and half of all heart attack victims who have low cholesterol levels never knew they were at risk.
"Chronic inflammation is the best predictor of heart disease and atherosclerosis," says Michael Roizen, MD, YOU Doc and co-founder of Real Age. "Chronic inflammation causes swelling and reduction in the diameter of the arteries that can lead to blood clots and accelerate the buildup of plaque and subsequent cardiovascular disease and atherosclerosis. Everyone should get tested to measure their CRP levels, not just to assess risk of heart disease, but there's new research that shows that elevated levels of C-reactive protein are linked to heart disease, stroke, memory loss, impotence, wrinkling, even Alzheimer's."
CRP is a general measure of inflammation in the body and the leading predictor of cardiovascular disease, better than cholesterol and/or triglycerides. For people who have elevated CRP, purified Omega 7 has been clinically shown to reduce CRP by up to 73%. It is also known to decrease insulin resistance, and decrease accumulation of bad fats in the liver -- with no side effects.
According to the American Heart Association, people with high CRP are twice as likely to suffer cardiac arrest as those with low levels. "This makes C-reactive protein the most important cardiovascular risk factor we have for men and women over age 50—a more important factor than age, family history, blood pressure, cholesterol, and/or whether you smoke," says Roizen.
The clinical study in humans screened 30 test subjects who took one gel cap per day for a month. On average, taking one gel cap per day, the test lowered LDL cholesterol 11.2%, and for those with elevated baseline inflammation, C-reactive protein was reduced by an average of 73%. "Clearly this merits more trials, and they are already underway."
About Michael F. Roizen, MD
Michael F. Roizen, MD, is the YOU Doc and co-founder of Real Age. Among Dr. Roizen's many accomplishments, he co-founded six companies including RealAge sold to Hearst in 2007; co-invented a drug approved by the FDA in April 2008; co-wrote three medical bestsellers and four number one New York Times bestsellers (the YOU series books and RealAge) and formerly served as chair of a Food and Drug Administration advisory committee, as well as editor of six medical journals.
He and Dr. Mehmet Oz co-write the daily "YOU Docs" columns syndicated to 76 newspapers in North America and similar columns in four magazines.
About Cardia 7:
Cardia 7 contains Provinal™, which is manufactured by Tersus Pharmaceuticals. Founded in Cleveland, Ohio in 2010, Tersus was recipient of Therapeutic Discovery Grant for Ground Breaking Medical Research in 2010. Contains Provinal™ Purified Omega 7 fatty acids are purified to express high levels (50% and upwards) of palmitoleic acid (C16:1n7).
For more information visit:
Cardia 7 http://www.cardia7.com