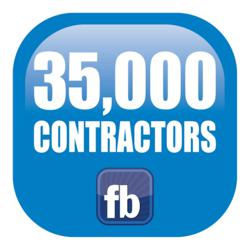 Fixxbook is the place to find and to be found.
New York, NY (PRWEB) December 19, 2012
Fixxbook, the online commercial contractor directory by ServiceChannel, the market leader in facilities management/contractor collaboration, has registered 35,000 contracting companies spanning virtually every trade in the U.S.
"We're proud to reach this important milestone on the road to providing our industry with unparalleled access to quality people, partners and information," said Fixxbook president, Eric Schechter, "35,000 company profiles representing hundreds of thousands of tradesmen is proof that Fixxbook is the place to find and to be found."
Fixxbook's mission is to catalog the knowledge, trade credentials and experience of all contractors in the repair and maintenance community and provide service buyers with the tools to find, credential and manage contractors globally. The company states that there are currently over 15,000 company profiles reviewed from searches daily on Fixxbook.
"Fixxbook provides a powerful value proposition to the network of registered contracting companies and their tradesmen," said Steven Gottfried, founder and CEO of ServiceChannel, Fixxbook's parent company, "by enabling them to provide better information to their customers which helps them get more business, get paid faster and lower their costs."
About Fixxbook
Fixxbook is the sourcing and credentialing tool in ServiceChannel's suite of services offered to Facilities Management clients, which includes the top five most profitable retailers and four of the ten fastest growing restaurant chains in the U.S., according to RetailSails 2012 and the Technomic Top 500 Restaurant Chain Report, respectively. To date, contractors on Fixxbook have processed over 30,000,000 work orders across the ServiceChannel platform. For more information, please visit http://www.fixxbook.com.
About ServiceChannel
ServiceChannel provides facility managers with a single platform to source, procure, manage and pay for facility maintenance services from commercial contractors. By providing a real time, web-based view of service data across all trades, locations and contractors, facility managers drive significant ROI for their organizations without outsourcing or investing in new infrastructure. More than 35,000 contractors use ServiceChannel every day at over 100,000 locations in over 24 countries. For more information, please visit http://www.servicechannel.com
# # #