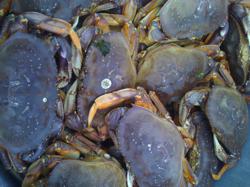 Closer to the source means fresher, sweeter crab for our discriminating diners.
LONG BEACH PENINSULA, Wash. (PRWEB) December 19, 2012
Chefs on Southwest Washington's Long Beach Peninsula are counting down the days for delivery of freshly caught Dungeness crab. "Drop Day" – the first day that commercial crab fisherman set out crab pots – is set for December 31. First deliveries of the famed, sweet and succulent crab pulled out of the water a few short miles from the restaurants are anticipated for a day or two after, in the New Year.
"We've been getting fresh crab from British Columbia and northern parts of Washington State but are excitedly awaiting the arrival of Lower Columbia River Dungeness crab," explained Laurie Anderson, co-owner/innkeeper/baker, The Shelburne Inn and spokesperson for Dine at the Source, the peninsula's outstanding culinary community. "Closer to the source means fresher, sweeter crab for our discriminating diners."
The deliciousness of Dungeness crab inspires menu items up and down the 28-mile long Peninsula. A favorite preparation is crab cakes. They can be found at upscale eateries such as Pelicano Restaurant (Ilwaco) and the Shelburne Inn Restaurant (Seaview), as well as contemporary newcomer Pickled Fish (Long Beach). On the casual side, look for crab cakes at Ole Bob's Seafood Market Café at the Port of Ilwaco, Dooger's Seafood and Lost Roo, both in Long Beach, and elsewhere on the Peninsula.
Preparations vary. Beau Dylan Hogge, executive chef, The Shelburne Inn, brings out the sweetness of the crab with house-made lemon aioli and fresh herbs. He pairs the cakes with seasonal, local ingredients such as cranberry and pumpkin rice and a shaved fennel salad. The cakes are finished with a chipotle aioli for a little "bite," completing the myriad of subtle flavors.
In addition to crab cakes, other mouthwatering Dungeness crab preparations abound:
-At The Depot Restaurant, Seaview, Chef Michael Lalewicz uses crab in his rich, satisfying Dungeness crab mac.
-A shrimp and Dungeness crab melt delights diners at Jimella and Nanci's Market Café (Ocean Park) and crab mac and cheese is a favorite among the Café's winter dinner offerings.
-Chef Sebastian Carosi serves his take on crab mac at Pickled Fish, on the top floor of Adrift Hotel, Long Beach, as well as the occasional crab donut and crab Louie.
-Dungeness crab beignet is a highlight of the gourmet comfort food offerings at 42nd Street Café and Bistro (Seaview).
Or, purists might prefer cracking into a half or whole steamed crab from one of the Peninsula's market cafes, or get their fill at the annual community crab feed on Jan. 19. http://www.funbeach.com/calendar/index.php?eID=8022
According to Dale Beasley, president, Columbia River Crab Fishermen's Association, Ilwaco, Dungeness crab is Washington and Oregon's highest dollar fishery, having more commercial value than all other fisheries (i.e. salmon, tuna, halibut) combined.
"Once you've tasted fresh Dungeness crab, nothing else will do!" exclaims Andi Day, executive director, Long Beach Peninsula Visitors Bureau, who grew up catching and eating crab out of Willapa Bay and the Columbia River. "We are so fortunate to have both access to fresh crab and more great chefs per capita than any other coastal destination in Washington, Oregon or Northern California."
Located on the southwestern-most coast of Washington State, the Long Beach Peninsula provides a mouthwatering mélange of restaurants, which share a devotion to the region's untold natural ingredients. Acres upon acres of cranberry bogs and twenty-plus varieties of edible mushrooms thrive under its ideal coastal conditions of moist sea air, fertile sandy soil and protective evergreens. Surrounded on three sides by ocean, river and bay, the Peninsula has an abundance of fresh-caught fish and seafood readily available, giving diners an unmatched opportunity to dine at the source.
To stay connected with the food culture on the Long Beach Peninsula, visit http://www.facebook.com/DineAtTheSource. For destination information, please contact the Long Beach Peninsula Visitors Bureau at 800-451-2542 or access http://www.funbeach.com.