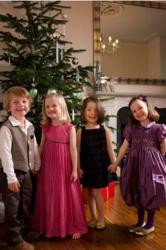 'Designer Clothes rarely come cheap... until now, that is... at Half-Pint Chic' - Hello Magazine
UK (PRWEB UK) 19 December 2012
The winter chill is upon us, which makes it all the more important to wrap your little ones up warm!
Founder of children's designer clothing boutique Half-Pint Chic and mum of two, Nicole Frost, give us her top 5 winter must haves:
The statement - hat and mitts
"No winter wardrobe is complete without a fun matching hat and glove set. This fleece lined Alpaca mittens and hat set by Egg by Susan Lazar will go with many jackets and coats. The mits also have a removable braided tie that connects the pair so you can be sure not to be going home minus one glove."
The ultimate winter party frock
"Party season is upon us finally so you can't go wrong to invest in a pretty frock which you can accessorise differently to meet any special occasion. Half Pint chic has a beautiful burnt orange dress by Il Baule de Elianne that really carries that summer feeling into winter and is 100% cotton, perfect with a pretty matching bolero."
The snuggly slogan jumper
"Enough of boring jumpers, slogans are back again. We have gorgeous cashmere Baby Rock jumpers by designer Oscar and Valentine will keep those little shoulders and arms snug all winter and they make for great Christmas gifts."
The clever coat!
"No matter where you go this winter, a coat will follow you everywhere. If you are shopping for a new coat wax jackets are in this year and great for creating a British country look. Get more wear out of a coat by choosing one that lets you detach the hood or lining so you can add and take away layers as and when you need.Half Pint Chic offers Eddie Penn puffas are great at keeping those little bods warm."
The statement party jacket
"A great little number to dress up shirts and turtlenecks for parties. If you want to dress up an outfit just add one of these elegant jackets to denim jeans to create a chic hollywood look. The 'Non -Smoking ' jacket by celebrity favourite Tom and Drew is a perfect piece for special winter dos."
Half-Pint Chic has teamed up with a number of high end fashion retailers to offer trendy party wear, perfect to kit the little ones out for those last minute Christmas and New Years Eve parties.
Half Pint Chic offers exclusive designer clothing at just a fraction of the RRP. All you have to do is sign up free at http://www.halfpintchic.com and get access to hundreds of great offers!