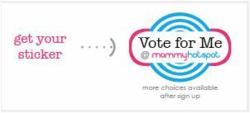 Becoming a part of a high quality network of relevant blogs can help expand readership and gain potential sponsors.
FORT LEE, New Jersey (PRWEB) December 18, 2012
MommyHotSpot.com, a comprehensive parenting blog featuring useful answers to today's child-raising questions, is now inviting other mom-centric blogs with quality content to join its MHS Badge Program. The enhanced promotional opportunity program enables mommy bloggers and like-minded individuals to enhance their credibility and overall reach across the web by adding the Mommy Hot Spot Badge to their site.
The MHS Badge Program welcomes eligible blogs to join its network, promote interactivity and increased site traffic. Through the MommyHotSpot.com community, member blogs can benefit from heightened visibility and increase their potential earnings.
Joining the MHS Badge Program is easy. Bloggers who meet the criteria to join simply fill out an application to receive a small MHS sticker that can be posted to their blog site. The sticker acts both as a badge of membership and a voting tool for blog readers to use to "like" a blog. By utilizing the MHS sticker tool, reader approval helps to elevate a blog's ranking within the MHS network of member blogs.
The Mommy Hot Spot Badge Program is a great way for smaller blogs to use the power of networking to increase visibility and share their wealth of knowledge with a broad community of readers. And with so many blogs out there offering high quality content, it can be a struggle to build a following alone. Becoming a part of a high quality network of relevant blogs can help expand readership and gain potential sponsors.
Joining the MommyHotSpot.com Badge Program offers a variety of perks for member bloggers:

Add credibility to a website.
Enhance user interactivity and gain additional followers.
Provide a Mommy Hot Spot back link to MHS Badge Program member's blogs to increase blog and website traffic.
Increase online visibility through exposure to the growing MHS network of more than five million unique visitors.
Add the MHS Infinity Widget for content syndication across relevant sites.
Receive sponsorship opportunities.
Participate in promotions, contests, giveaways, and more.
Expand an individual blog's reach across the Internet.
Mommyhotspot.com offers a variety of short, informative articles that can be easily accessed from a smartphone or tablet for parenting articles and inspiration at-a-glance. Written and compiled by experienced moms, the site provides a comprehensive selection of DIY project ideas, entertaining tips, parenting articles, product reviews and videos.
Mommyhotspot.com is one of the top online sites for parents to access real answers to classic child raising conundrums. And since the content comes from parents who have been there, the expertise is based on experience.
Mommyhotspot.com is a great place to find answers to any parenting questions, and a site that will grow with its readers. For more information, visit the Mommyhotspot.com website or email info(at)mommyhotspot.com.
About Marble Media LLC:
Marble Media LLC is a creator of high-quality, content-rich blog sites that provide expansive coverage of relevant information to readers who make up a wide range of demographics. The Marble Media LLC team of expert writers covers a wide range of specialties including travel, food, health, fitness, social media, marriage, parenting, technology, weight loss, fashion and much more.
For more information on Marble Media LLC's offerings and advertising opportunities, visit the MarbleMediaLLC.com website, or email sales(at)marblemedia.com.
###