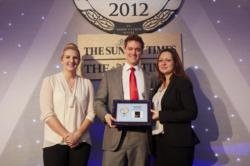 Vivalogue has been instrumental in effectively developing our profile within target markets
York, UK (PRWEB) December 20, 2012
Preston Baker, an indepedent real estate firm which launched in December 2011, has been awarded the Silver Award for Best Small Agency in the Northern Region at the Estate Agency of the Year Awards 2012, sponsored by The Times and The Sunday Times. Vivalogue UK has been part of the Preston Baker team since its inception and has been integral to its success. Vivalogue provides design, website and SEO services and publishes both electronic and printed newsletters on a regular basis.
In the 12 months since becoming independent, Preston Baker has sold properties with an exchange value of more than £70million and has created 37 new jobs. According to the Judges' Report, Preston Baker "combines the best of corporate infrastructure, systems and processes with the best of bespoke, small agency attitude and services. Preston Baker .... has excelled this year and it embraces technology and new techniques to give both buyers and sellers the best possible experience."
"In difficult economic times, we are bucking market trends and expanding," says managing director Ian Preston. "We're a proactive, family-run agency which means that we are not bound by corporate restrictions and can respond better to the special local needs of our sellers, buyers and landlords. Vivalogue has been instrumental in effectively developing our profile within target markets." Vivalogue UK director Kilmeny Denny concurs. "We pride ourselves on providing top quality services at affordable prices and particularly enjoy working directly with business owners."
About Vivalogue
Vivalogue specializes in helping businesses, individuals and organizations communicate effectively with their audiences. Business services include website design, SEO, printed and electronic brochures and newsletters and promotional books. Vivalogue also helps individuals and organizations create professional-quality books and realize the benefits of self-publishing without the administrative burden. Vivalogue offers research, writing, editing, design, printing and marketing services in Canada and the United Kingdom. For more information, visit http://www.vivalogue.com.