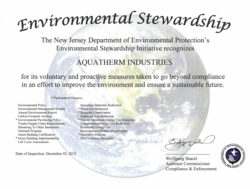 We are honored to be recognized for our environmental efforts by the NJ DEP, and will continue to improve our processes and operations in order to achieve an even higher level of compliance. - Dave Sizelove, Aquatherm President & CEO
Lakewood, NJ (PRWEB) December 18, 2012
Aquatherm Industries, Inc., the largest U.S. manufacturer of unglazed polymer solar thermal collectors, has received a certificate of recognition under the New Jersey Department of Environmental Protection Environmental Stewardship Program. The Program and certificate acknowledges Aquatherm's "voluntary and proactive measures taken in an effort to improve the environment," and are predicated on an inspection completed by a member of the NJ DEP.
In January 2008, the New Jersey Department of Environmental Protection (NJDEP) initiated a recognition program to highlight Environmental Stewardship as part of its compliance assurance efforts. This initiative is available to members of the regulated community who have implemented regulatory requirements and result in increased benefits to the environment. Often during compliance visits inspectors will observe improvements at a facility that exceed the regulatory requirements. In the past there has not been any way to recognize the efforts of these environmentally proactive businesses
Specifically, Aquatherm was recognized in the following categories:

Environmental Purchasing Policy
Green Building Implementation
Water Use Reduction
Material Conservation
Process/Operations Energy Use Reduction
In addition, the Aquatherm's efforts to reduce the amount of printed materials waste was recognized as an "Innovative Program" by the NJ DEP. The manufacturer has developed online versions of its installation manuals and warranty registration cards for its Ecosun and Solar Industries Solar Pool Heater products; this conserves materials by eliminating the need to print manuals when issuing or updating manuals eliminates the need for re-prints should future changes be required.
Details of each recognized facility's specific stewardship activity is available online and intended to provide a metric for businesses to measure and improve their ongoing environmentally-conscious programs. Wolfgang Skacel, Assistant Commissioner of the NJ DEP, told Aquatherm "It is our intent to have this serve as an information resource where others may learn from or be inspired by your actions, just as others may lead you to new achievements."
Dave Sizelove, Aquatherm's President and CEO, views the recognition as a launching pad for even loftier goals in the company's environmental management efforts. "One of Aquatherm's core values is to make a contribution to the communities in which we live. Recognition by the NJ DEP Stewardship Program now gives Aquatherm another benchmark to measure itself by, and reinforces our ongoing commitment to improvement in all that we do. We are honored to be recognized for our environmental efforts by the NJ DEP, and will continue to improve our processes and operations in order to achieve an even higher level of compliance."
Sizelove added, "With the Department of Environmental Protection's acknowledgment as a starting point, Aquatherm will be developing a framework of environmental management standards – with the eventual goal of obtaining ISO 14001 Registration for our facility."
About Aquatherm
Aquatherm Industries is the largest manufacturer of solar pool heating systems in the United States, the only U.S. manufacturer of NSF listed solar pool heaters, and the only U.S. solar collector manufacturer to achieve the ISO 9001:2008 quality standard. Aquatherm manufactures several of the industry's leading brands of solar pool heating collectors, including the Solar Industries and Ecosun collectors.
Aquatherm's entire manufacturing process takes place at its 50,000-square foot technology center in Lakewood, NJ - the most modern facility of its kind in the world. For more information on Aquatherm Industries, its products or its dealer network, contact Molly Friar, Aquatherm's Sales & Marketing Manager at 1-800-535-6307, extension 226.