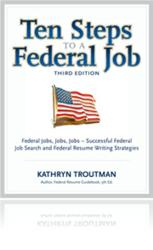 "Federal job seekers should make these eight resolutions before they send out one resume in 2013."
Washington, DC (PRWEB) December 19, 2012
Retirement claims for federal civil servants will triple in the first month of 2013, compared to the preceding months, according to a Resume Place analysis of data released in early December by the Office of Personnel Management (OPM). The openings eventually created by many of these 21,000 projected January retirements will create new opportunities for federal employment, even in these times of economic uncertainty, says Kathryn Troutman, author of Ten Steps to a Federal Job.
"With budgets getting cut and more competition than ever for federal job openings, it's critical to put your best foot forward," says Troutman. "That's why I strongly advise that if you've found the perfect announcement – the one with the right location, right salary, right agency, right specialized experience requirement, do not apply for it with your 'best guess' of what a federal resume should look like. Instead, talk to a federal resume writer and coach who will help your application earn 'best qualified' and 'referred' status, and get you the interview."
The federal resume is unlike any other resume that most professionals have written: It must be a highly technical, targeted, specific resume that is written for a position posted on USAJOBS. "The one-size-fits-all, shotgun approach to writing and submitting federal resumes simply does not work," says Troutman. "And the resume you've used in the past may no longer get you the federal job you want today."
In the spirit of New Years 2013, Troutman recommends that federal job seekers make eight "resume resolutions" – concrete steps for creating a federal resume that's most likely to yield a better job and a more secure financial future. These doable steps are all much more practical and useful than conventional job-hunting resolutions such as sending out five resumes per day.
Says Troutman: "Federal job seekers should make these eight resolutions before they send out one resume in 2013."
1. Resolve to write the federal resume to meet the Office of Personnel Management's exacting classification standards, which are very different from specific occupational series.
2. Resolve to feature in the resume accomplishments that are compelling and easy to find or read.
3. Include every significant keyword that appears in the announcement for the job at hand.
4. Write a detailed, multiple-page resume that covers all of the qualifications included in the announcement.
5. Write my federal resume in digestible sections with selectively bolded type and occasional ALL CAPS to enhance scannability -- not in excessively bulleted text or huge blocks.
6. Resolve to write a resume that matches the questionnaire for each federal job applied for.
7. Include all of the applicant's jobs, even those that didn't last long, regardless of their relevance to the position sought.
8. Resolve to manually copy the federal resume into USAJOBS rather than uploading it, which would likely cause the loss of dates, weekly hours worked, supervisors' names and phones, training, and other important information human resources managers will expect to find.
These steps and more detailed advice on the federal resume, application and interviewing processes are included in Ten Steps to a Federal Job."Getting your resume right is critical to your career and your family's finances," says Troutman. "The average mid-grade federal position could earn you $75,000 a year, plus benefits." With 21,000 retirement claims to be filed in January, the federal government will be offering many opportunities to achieve that kind of success.