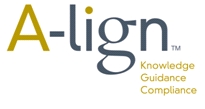 "By providing clients with the ability to work with one firm for all of their compliance needs, we are able to reduce the impact of the audit to the organization as well as reduce the overall engagement fees."
Tampa, FL (PRWEB) December 21, 2012
A-lign is comprised of two organizations, A-lign CPAs and A-lign Security, both of which focus strictly on regulatory and compliance areas. This collaboration of compliance initiatives effectively enables A-lign to assist clients with their significant compliance needs. "Business owners are utilizing the single solution approach to reduce impact on their time and budget," noted A-lign CPA Managing Director Scott Price, CPA, CFF, CISA, CIA. "These dual-services have contributed to the overall growth of the firm and will continue to do so in the upcoming year." Scott Price has performed more than 900 SAS 70/SSAE 16 audits and is widely recognized as one of the most experienced SAS 70/SSAE 16 auditors in the world. Scott is presently the Chairman of the Florida Institute of CPAs. "By providing clients with the ability to work with one firm for all of their compliance needs, we are able to reduce the impact of the audit to the organization as well as reduce the overall engagement fees."
A-lign has assembled a top notch team of audit professionals from Arthur Andersen, Ernst & Young, Deloitte & Touche, KPMG and PriceWaterhouseCoopers. These employees hold Master Degrees in Accounting and related certifications in Audit, Accounting and Information Systems. Director Neil Gonsalves, CPA, CISA, CA observed, "Our team is comprised of international auditors who represent India, Germany, China, the Carribean, and the US. Language skills are not a barrier for our team, as we have bilingual auditors who speak German, Spanish, Chinese and Hindi." Neil was responsible for leading and managing Ernst & Young's SAS 70 practice in the Southeast area and played a significant role in building their SAS 70 practice in India. Neil has performed over 400 SAS 70/SSAE 16 audits.
A-lign Security Director Gene Geiger, CPA, CISSP, QSA commented, "A-lign is excited about extending the services we offer to our clients. In 2012 A-lign launched vulnerability assessments and penetration testing services and plans to offer FedRAMP security assessment and ISO 27001 certification audits in 2013. These additional services demonstrate A-lign's commitment to meeting our client's compliance needs." Gene Geiger is a former Enterprise Risk Services Manager at Deloitte & Touche, and has led A-lign to becoming a PCI provider.
A-lign invites anyone interested in learning more about the compliance offerings for their company to contact them today by email at info(at)aligncpa(dot)com or visit their website to sign up for their blog and/or newsletter.