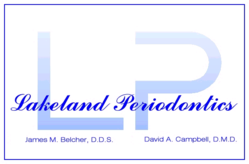 Lakeland, FL (PRWEB) December 20, 2012
Lakeland Periodontics Dr. James M. Belcher, offer patients relief from issues stemming from gum recession with gum grafting procedures. Recession is often a symptom of advanced gum disease. However, gum recession can occur in an otherwise healthy mouth. Several other determining factors can cause healthy gum tissue to begin to recede. The gum grafting procedure can improve the look of the smile and create a healthy zone of gum tissue, while providing more protection for the teeth.
Gum disease affects millions of American adults every year, but only a small percentage of those affected seek the treatment they require. While the early stages of the disease may have minimal symptoms such as gum redness or puffiness, there are some people who do not show symptoms until the disease has progressed further. As gums become infected, they are likely to recede, which can allow teeth to become loose. In addition, the lower the gum line, the more open to exposure the teeth are, making them vulnerable. A procedure that can help to correct the problem is called gum or soft tissue grafting.
The three gum grafts most often used at Lakeland Periodontics include the pedicle graft, using excess gum tissue near the affected tooth; the free gingival graft, which takes tissue directly from the roof of the mouth; and the connective-tissue graft, which is the most common and takes tissue from under a small flap in the roof of the mouth. Alternately, a synthetic tissue may also be used. The tissue being grafted is stitched to the gum tissue in the area and integrates with it as it heals.
The gum grafting procedure is done in the dental office and the patient returns home afterward. If a sedative was used to aid the patient in relaxing for the procedure, someone else will need to transport the patient home. Most patients are able to return to normal activity the following day. It is important that the patient follow the post-operative care instructions given by your periodontist at Lakeland Periodontics for best results.
More information about gum disease, receding gums and gum recession is available at http://www.lakelandgumsurgery.com.
Lakeland Periodontics is a periodontal practice offering patients personalized periodontal therapy and dental implant placement for Lakeland, Florida. Dr. James Belcher and Dr. David Campbell are both certified periodontists with years of training and experience in dentistry. Their practice is part of one percent of dental professionals providing the most recent FDA cleared laser procedure for gum disease and periodontal treatment. Lakeland Periodontics is a practice limited to Periodontics and dental implants. To learn more about Lakeland Periodontics, their dental services and dental implant cost, visit their website at http://www.lakelandgumsurgery.com and call (863) 594-1351.