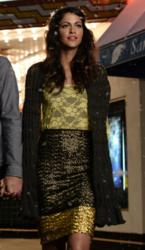 Salt Lake City, Utah (PRWEB) December 20, 2012
DownEast Basics, a high-style, low-price retailer that specializes in trendy fashions as well as modest clothing, today unveiled its 2012 Holiday Collection featuring some of the hottest seasonal trends. Known for its "boutique on a budget" philosophy that lets shoppers buy more, the retailer offers new styles for women, teens and girls – including looks sure to be standouts this holiday.
"Our Holiday Collection is always a personal favorite and this year is no exception," said Andrea Updike, DownEast's head clothing designer. "Whether you're looking for fresh, on-trend colors and eye-catching prints or want to add a bit of holiday sparkle and shimmer, we have it! You'll see all the same looks in our stores that you do on the runways and in high-end boutiques, but at our always affordable prices."
The DownEast "Basics" concept continues to be well-priced, wardrobe-building essentials combined with key new trends that can be layered and mixed for pulled-together style. Updike talks about the hot trends captured in "must-have" pieces from this year's Holiday Collection:

Color Blocking. "Go bold and make a statement with color blocking! A great example of this is DownEast's Bow Tied Dress, which pairs pink and red for a very pretty, very striking effect. Or, if you're looking to add some holiday sparkle, try our Karat Skirt – this color block, sequin, pencil skirt is especially glamorous."
Bows. "When it comes to festive and trendy dressing this season, bows are the ticket! They add stylish appeal to DownEast's Gift Wrap Top, Friendly Reminder Top, Cedar Street Dress and English Manor Tunic."
Hot Color: Coral. "Go caroling in coral! One hue that's showing up everywhere is the Pantone-featured color, Cayenne. Look for it throughout our November and December collections, including our great-for-layering Ashbury Top, Chevron Cardi and Vermont Valley Cardi."
Hot Color: Burgundy. "Deep shades of berry and wine paired with pops of bright color will keep you looking style savvy this holiday. Find this color trend in our Timepiece Dress and Dropped Dots Cardi."
Novelty Prints. "Novelty prints make for a fun and on-trend holiday, so why not dash through the snow in DownEast's llama-print, tie-neck Front Desk Top? This blouse is stylish and has a sense of humor, too."
Sequined Pants: "Strut your stuff in DownEast's stretchy, sequin-drenched SOHO Leggings. Darling and dazzling, they're sure to be the hit of your holiday party. Embrace the embellished pant trend!"
All DownEast styles mentioned are available now, or will be available soon, online at http://www.downeastbasics.com/ or at your local DownEast store.
About DownEast Basics
DownEast Basics (http://www.downeastbasics.com) offers high-design looks on a bargain basement budget for today's cost-conscious yet fashionable consumer. The DownEast Basics clothing line features smart layering pieces and wardrobe enhancing garments so you can embrace the American classic look with your own sense of style.
Shop for cute tops, womens sweaters, modest dresses and accessories at Downeastbasics.com.
The fast-growing retailer operates nationally with its Basics line via its online store in addition to 52 locations throughout the West including in Utah, Colorado, California, Idaho, Arizona, Washington, Nevada and Wyoming.
# # #