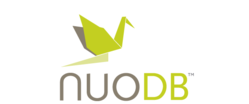 Join the live-streamed webcast January 15, 2013, at 11 am EST
Cambridge, MA (PRWEB) December 20, 2012
NuoDB, Inc., a startup offering the industry's only patented, elastically scalable Cloud Data Management System (CDMS), today announced that their solution will be made generally available on January 15, 2013.
The company will host a live-streamed webcast on January 15, 2013, at 11 am EST, with plans to make significant customer-related announcements and extend an industry-wide database performance challenge, as part of the event.
The in-person event will be by invitation only and will be held at the Seaport Hotel in Boston. Interested parties may register for the live webcast at this link: http://go.nuodb.com/cdms-2013-register.html
"We are headed to general availability with tremendous momentum, " stated Barry Morris, NuoDB CEO and co-founder. "The company has exceeded over 3,000 beta users who are evaluating our 21st century, elastically scalable database. We have just signed three new partners for our NuoConnect™ partnering program; released RC2 of the product and the product is achieving outstanding performance both in terms of scale and transactions per second."
"We encourage app developers, DBAs, IT managers and industry influencers to join us at our launch event. Our announcements will have a profound impact on their applications in today's data centers and the cloud."
About NuoDB
NuoDB, Inc., is a Cambridge, MA-based startup that provides the industry's first and only patented, elastically scalable Cloud Data Management System (CDMS). Unlike every other database, NuoDB is architected to scale out effortlessly on the cloud without compromising any of the features or guarantees of relational databases.
NuoDB was launched in 2010 by industry-renowned database architect Jim Starkey and accomplished software CEO Barry Morris. For more information, visit us at http://www.nuodb.com. Twitter: @nuodb