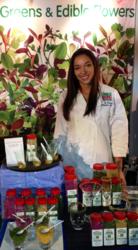 Microgreens are best used as a thoughtful component to add flavor and visual appeal that makes sense. It should tie in with the overall composition of the plate.
San Marcos, California (PRWEB) December 22, 2012
Microgreens aren't the only thing growing at Fresh Origins! Family member, Kelly Sasuga has developed many skills, and is now the farm's Research and Development Chef .
Kelly graduated from the University of San Francisco with a Degree in Fine Arts. Along the way, she cultivated an interest in photography, where she applied her artistic sensibilities in photographing the beautiful food created by fine dining chefs. Her photos have been used in a variety of media including StarChefs, Catersource Magazine, Flavor and the Menu, Epicure Magazine, San Diego Magazine, Dining out magazine and others.
Upon her return to Fresh Origins, Kelly worked to ramp up the sales and marketing efforts with social media, graphic design, photography, and product development. She plays a key role in representing the company at chef centered events, and trade shows throughout the country where she enjoys the opportunity to meet and interact with great chefs.
Offering Fresh Origins' Microgreens and Edible Flowers to Chefs nationwide has been a unique opportunity to learn about the creativity of fine cuisine. Her growing appreciation for fine cuisine inspired her to become a chef herself, so in 2012, she graduated from the San Diego Culinary Institute in their Commis de Cuisine program. Completing the grueling program at the top of her class, which included a stage at San Diego's unique restaurant; Red Light District, she learned first-hand the blood, sweat, tears and passion of what it takes to be a professional chef.
Integrating fine culinary skills with her artistic talents, Kelly creates specialty dishes to guide chefs in how to incorporate Microgreens and Edible Flowers into their cuisine. She encourages them to consider the flavor profile of a dish in utilizing the microgreens as a key ingredient. They should be integrated as relevant visual and flavor component to enhance and complete the dish. There are so many different flavors, colors and textures of Microgreens and Edible Flowers with a multitude of ways to pair with any combination of foods. She develops recipes and contributes photography, graphics, and information for Fresh Origins' website, and blog. Kelly also has a background in bartending and uses this knowledge to create cocktails that integrate Fresh Origins' specialty herbs and edible flowers to add exciting colors and flavors.
Kelly's responsibilities include showcasing Fresh Origins products at trade shows and culinary events where she has prepared and provided food for StarChefs.com International Chef's Congress in New York, Culinary Institute of America's Worlds of Flavor event in Napa, Produce Marketing Association's Foodservice Conference in Monterey, San Diego Restaurant Week's Tasting Event, CaterSource Conference, Las Vegas, and The Western Foodservice Show.
In addition, Kelly produces a monthly newsletter that features the company's unique product line including new introductions of Microgreens, Petitegreens, Edible Flowers, Tiny Veggies, Shoots, Herb Crystals, Flower Crystals and more.
Recently, Kelly has been developing recipes for using the new Herb Crystals and Flower Crystals. These are an exciting new ingredient for adding another layer of flavor, texture and color to any dish.
About the Company:
Fresh Origins is America's leading producer of Microgreens and Edible Flowers. Combining the benefits of an ideal climate with a deep passion for quality and innovation, Fresh Origins products are sought after by the finest restaurants and top chefs.
David Sasuga and his family operate the 24 acre farm located in the picturesque rolling hills of San Diego County, California where the near perfect weather allows for production and harvest almost every day of the year. Growing Microgreens since 1995, Fresh Origins grows an innovative portfolio of over 400 Microgreens, PetiteGreens, Edible Flowers, Shoots Tiny Veggies, Herb Crystals, Flower Crystals and related items.
Fresh Origins' primary product remains Microgreens. They have exceptional color, are bursting with flavor and have outstanding keeping quality due to ideal climate and the attention and care given in the growing, harvesting and packing. They are hand harvested to order at the peak of freshness and shipped overnight to arrive the next morning to all parts of the country.
Fresh Origins products are on top of the world's finest cuisine!
Fresh Origins supplies distributors of specialty produce who serve fine dining restaurants and resorts. An online source of their products is available to private chefs and home cooks at GourmetSweetBotanicals.com