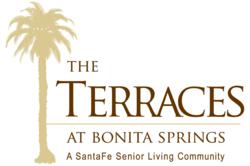 I'm looking forward to returning to Florida and being a part of the SantaFe Senior Living team that's dedicated to the highest standard for senior living communities in the Sunshine State
Bonita Springs, FL (PRWEB) December 21, 2012
The Terraces at Bonita Springs is pleased to announce Ross Dickmann as the executive director of the new senior living community located at 26401 S. Tamiami Trail in Bonita Springs. Dickmann is responsible for the start of operations and managing day-to-day operations of The Terraces, which is currently under construction and scheduled to open in the summer of 2013.
"Mr. Dickmann brings tremendous senior living experience, superior leadership skills, extensive start-up of operations experience and operational knowledge to our team of dedicated professionals," says Troy Hart, president of SantaFe Senior Living, sponsor of the not-for-profit community. "The Terraces is establishing a new level of refinement and lifestyle options for today's older adults, and we know he will fulfill our commitment to creating a premiere retirement experience at The Terraces."
Dickmann has over 15 years of leadership experience in senior living. He's led successful openings and ongoing operations of communities in Washington, D.C.; Aventura, Fla; and most recently Querencia at Barton Creek, a retirement community located in Austin, Tex. Prior to his career in senior living, Dickmann spent 20 years in active service in the U.S. Coast Guard, achieving the rank of Master Chief before his retirement.
"I'm looking forward to returning to Florida and being a part of the SantaFe Senior Living team that's dedicated to the highest standard for senior living communities in the Sunshine State," says Dickmann. "I've seen many different communities during my career in senior living, but I've never seen anything quite like The Terraces. The design, the features and the lifestyle experience is really inspiring and I'm excited about what's to come."
A well-known leader in senior living, Dickmann has received numerous awards and special recognition in his career for achievements, including resident satisfaction, fiscal management, highest sustained occupancy and excellence in hospitality.
The Terraces at Bonita Springs offers maintenance-free living, chef-prepared meals at several dining venues, a sky lounge, fitness center, swimming pool, spa, as well as an array of social and wellness activities and lifestyle events. The Terraces will feature 144 one-, two- and three-bedroom independent living apartment homes, and lifetime access to on-site health care, including 48 assisted living, 40 skilled nursing and 18 memory support suites.
About The Terraces at Bonita Springs
The Terraces at Bonita Springs is a not-for-profit senior living community that will serve older adults in Naples, Ft. Myers and Bonita Springs, Fla. The Terraces at Bonita Springs is sponsored by SantaFe Senior Living, a SantaFe HealthCare company. More information is available by visiting the community's website at http://www.TheTerracesAtBonitaSprings.com, or by calling (239) 221-8907 or toll-free at (877) 333-1860.