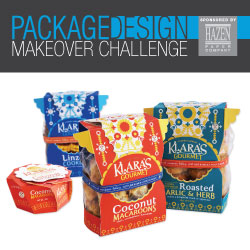 This year's Makeover Challenge contest was exceptionally competitive, requiring the winner to bring an intense amount of creativity to its concepts
Cincinnati, OH (PRWEB) December 21, 2012
Package Design magazine's ninth annual 2012 Makeover Challenge, sponsored by Hazen Paper Company, has named Pulp+Wire (Portland, ME and Boston, MA), as the winner for its redesign of the cookie and shortbread packaging for Klara's Gourmet Cookies (Lee, MA).
The Makeover Challenge tasked four design agencies with creating a new package look for the products produced at Klara's Gourmet Cookies. The agencies had less than two months to develop and present their best designs before Package Design readers were invited to voice their opinions. There were nearly a thousand votes cast online at PackageDesignMag.com and on-site at Pack Expo International, which was held in Chicago.
Pulp+Wire explained that it wanted to create a design that leveraged Klara's Gourmet Cookies' Czech Republic baking traditions while staying consistent with the brand's reputation – creating packages that delight with color, shape and copy
"This year's Makeover Challenge contest was exceptionally competitive, requiring the winner to bring an intense amount of creativity to its concepts," says Linda Casey, editor-in-chief at Package Design.
In order to fulfill the desires of Klara's Gourmet Cookies and win the hearts of voters, Pulp+Wire's founder and creative director Taja Dockendorf started with a single question: "How do we create something that could be magical but at the same time cost-effective?" Its design, which weaves magic in much the same fashion a fiction writer builds magic into a fairy tale, resonated with both online and on-site voters.
Pack Expo International attendees especially enjoyed interacting with the intricate structures, from the beautifully cut tabs on the 8-oz. box to the single-serve carton that folds out to a plate; and all voters enjoyed discovering the many 'Easter eggs' in the design, including the cookie and baking-utensil shapes that make up the 'lace' pattern."
About Package Design
Package Design provides in-depth insight into the vibrant and evolving package design field. Package Design magazine's editorial content consists of departments and features that inspire brand owners, package designers and packaging engineers and uncover the products, techniques and insights needed to make their innovations a reality. The publication's website is home to a highly interactive community where readers share their best package design projects and other news. This is in addition to reports by the editorial staff on the latest package design news and projects. To learn more about Package Design, visit packagedesignmag.com.
About ST Media Group International
ST Media Group International Inc.'s products enjoy a worldwide reputation of quality and timely editorial. Located in Cincinnati, ST Media Group is a 105-year-old multimedia company that specializes in the business-to-business markets of visual communications consisting of signage, retail design, screen printing, digital imaging, package design and boutique/hospitality design. Visit stmediagroup.com for details.