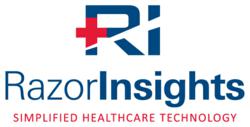 Kennesaw, Georgia (PRWEB) December 22, 2012
RazorInsights, a leading provider of healthcare IT solutions for rural, critical-access and community hospitals, today announced that data compiled as part of KLAS's recently published Community Hospital CIS Market Share 2012: Small Hospitals, Big Changes report suggests RazorInsights has become a notable "new-entrant."
According to the October 2012 publication, KLAS Research Director Paul Pitcher found that there is a significant amount of dissatisfaction among community hospitals and that many are looking toward new, lesser-known vendors, such as RazorInsights, to meet their HIS needs. "The year 2011 saw incredible churn in the community hospital EMR market. Whether it was smaller hospitals buying for the first time, health systems and consolidation driving single-vendor strategies, or hospitals replacing outdated or failed investments, over 300 hospitals under 200 beds changed or replaced their hospital HIS in 2011," he reported.
Reed Liggin, R.Ph, MBA, CEO of RazorInsights, is pleased to be utilizing KLAS and is encouraged by Razor's current survey ratings and its growing share of the community hospital space. "KLAS is a great tool for helping us measure our performance with our hospital clients. Being able to make an impact in the market, in such a short time-frame, is a testament to the product and superb team we've built. We're excited to finish the year strong and we're looking forward to an even better new year," he said.
For more information regarding RazorInsights' current KLAS ratings
To order a copy of Community Hospital CIS Market Share 2012: Small Hospitals, Big Changes, visit the KLAS Store.
About KLAS:
Headquartered in Orem, Utah, KLAS independently monitors vendor performance through the active participation of thousands of healthcare organizations. KLAS uses a stringent methodology to ensure all data and ratings are accurate, honest, and impartial. For more information, visit klasresearch.com.
About RazorInsights:
Based in Kennesaw, Georgia, RazorInsights is a dynamic healthcare information technology company. In keeping with the principle of Occam's Razor, they have created a simplified HIS solution for rural, critical-access, and community hospitals. Introducing ONE — a single-database, cloud solution offering a simple user experience with cutting-edge clinical tools and industry-standardized data. Hospitals can expect to improve their performance and bottom line with ONE from RazorInsights. For more information, visit razorinsights.com or call 770-308-4111.