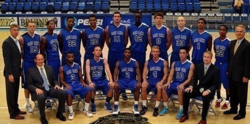 Taylorsville, Utah (PRWEB) December 27, 2012
The Salt Lake Community College Men's & Women's Basketball teams resume competition following a winter break.
The Bruin Men's team will compete in the Fiesta Bowl Junior College Shootout. The first game will be held on Friday, Dec. 28 at 2:00 p.m. against No. 2-ranked Howard College. The tournament will be hosted by Mesa Community College in Mesa, AZ.
The Fiesta Shootout features a win-and-advance format and a consolation bracket. The Bruins are familiar with the tournament, having won the Fiesta Shootout in 2010-11 season, defeating Central Wyoming 98-67, Howard College 65-63 and Westwind Prep 92-70 in the championship game.
All Fiesta JC Shootout games will be streamed live from the tournament's website: http://athletics.mesacc.edu/mens-basketball/fiesta-bowl-junior-college-shootout-details; the College will also provide broadcast links to all SLCC games in the tournament at: http://www.slccbruins.com.
Following the Fiesta JC Shootout, the Bruins will resume SWAC competition. SLCC will play No. 13 Northern Idaho College at Bruin Arena on Thursday, Jan. 3 at 7:30 p.m.
About the College: Salt Lake Community College is an accredited, student-focused, urban college meeting the diverse needs of the Salt Lake community. Home to more than 62,000 students each year, the College is the largest supplier of workforce development programs in the State of Utah. The College is the sole provider of applied technology courses in the Salt Lake area, with 13 sites, an eCampus, and nearly 1,000 continuing education sites located throughout the Salt Lake valley. Personal attention from an excellent faculty is paramount at the College, which maintains a student-to-teacher ratio of less than 20 to 1.
###