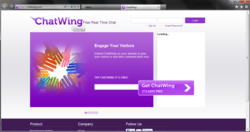 San Diego, CA (PRWEB) December 25, 2012
Websites and blogs are potent tool in promoting a brand or thought in the World Wide Web. These sites are the companies or the groups' representation online, the importance of keeping it professional both in content and appearance is of great value. Everything that is posted on one's site, from the content to the images, says a lot of things to the company. It builds or destroys the company's credibility; reinforces the advocacy or render it questionable. Chatwing team recognizes the importance of appearance thus creating chat software that provides the user much flexibility in modifying it to the bloggers content.
Chatwing has developed a web chat tool that has a simple interface making it over-all as user friendly. It is quick and easy to install and anyone can do it. In terms of modification, Chatwing team has given its users many ways to alter the shoutbox. In simple ways, a blogger can change the chat apps' size, border design, font and username colors. Users can go as advanced as CSS customization where Chatwing provides simple instructions on its website. Web admins are also free to choose the widget style. Chatwing has three available forms- regular chat box, pop-up window and vanity URL.
Any of these forms provides an efficient and reliable tool for real time interactions online. Pop-up window and regular chatbox are capable of holding a thousand users at the same time yet pop-up window let's the user save up space on his site. Vanity URL allows private chats. This option provides the user with shortlinks he can send to chosen web surfers to start a group chat. This is ideal for survey or evaluation purposes for marketers.
Another Chatwing feature marketers can exploit are the image and MP3 uploads. Uploading the company's logo as the chat background will help in keeping the brand in people's mind. It will be more creative to upload a music that would reinforce the brand image the company is projecting. Advocates can upload powerful visuals to the chatbox that will stir emotions to their target audience.
About Chatwing.com
Chatwing.com specializes in the new field of website chat. Over years, the Chatwing team has introduced live chat widget for hundreds and thousands of blogs. The Chatwing application bridges people from many parts of the world, creating global synergy through the Internet. The shout box can be installed in just seconds, and it can be used for varying purposes such as leisure and Internet marketing. It also allows a user to customize the size, color, and name of the widget.