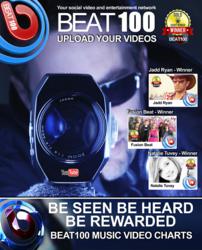 (PRWEB) December 23, 2012
Everybody's talking about the massive BEAT100 Music Video Chart that has hit the net recently. With musicians uploading from all over the world, the chart has never seen so much talent. The BEAT100 Music Video Chart features videos from aspiring artists, whether it's an original song or cover, and then other users on the site vote for their favourite videos.
BEAT100 has invented an awarding system for user's video uploads, which results in bonus votes if their video stands out. Awards are given during video approvals by any member of the BEAT100 Team, and users can be awarded music video awards for a well-written song, high quality video or for an impressive performance. These awards are then ranked; 50 votes for gold, 30 votes for silver and 20 votes for bronze. Users also get the chance to win the ultimate BEAT100 Favourite Video Award, in which they could receive 100 votes for gold, 75 votes for silver and 50 votes for bronze.
The BEAT100 Music Video Chart includes some great sharing features to help artists get their music noticed worldwide. You can now link your BEAT100 profile to your Facebook and Twitter accounts, enabling you to share your video with your friends and fans with the click of a button. The "Post BEAT" feature also enables users to share their video with other users in the BEAT100 network, allowing you to connect with new connections and fans.
The ultimate rewards you can win as a result of entering the BEAT100 Music Video Chart are the cash prizes ($400, $200, $100) and a worldwide press release, which are awarded to the Top 3 Chart Winners every 14 days. As a result, the Top 3 winners receive worldwide exposure from BEAT100, plus the recognition and rewards they deserve for the hard work they have put in.
BE SEEN – BE HEARD – BE REWARDED