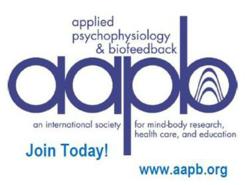 Biofeedback and somatic feedback can show patients how their thoughts and emotions impact their physical well-being.
(PRWEB) December 26, 2012
Renowned psychologist, educator and author Dr. Erik Peper will teach a pre-conference workshop at the annual AAPB (Association of Applied Psychophysiology and Biofeedback) meeting taking place from March 14-16, 2013 in Portland, Oregon. The March 13th workshop is ideal for health professionals new to biofeedback as well as for experienced practitioners. The session will focus on setting up biofeedback instrumentation and software to record and review data and generate simple reports. Attendees will learn how to optimize sensor placement, to ensure the best possible physiological recordings and will have an opportunity to consult with the instructors on specific applications. The workshop will feature Thought Technology's ProComp and BioGraph Infiniti System and is co-taught with Didier Combatalade, D.C. and Clinical Interface Director at Thought Technology.
Exhibitors Showcase for Infiniti Workshop
Date: March 13, 2013
Time: 8:00 AM – 5:00 PM
Presenters: Erik Peper, Ph.D., BCB and Didier Combatalade, DC
Register at http://www.aapb.org
In a recent article in Biofeedback, the journal of the AAPB , titled "Change Illness Beliefs with Biofeedback and Somatic Feedback," Dr. Peper discussed the use of biofeedback and somatic feedback as tools to change illness beliefs. According to Dr. Peper, "When a patient perceives an illness to be beyond their control, they are not as likely to make wellness-oriented behavioral changes. Biofeedback and somatic feedback can show patients how their thoughts and emotions impact their physical well-being."
Simply put, biofeedback is like a window into the self. It allows people to "see" how their thoughts affect their bodies. Various physiological signals are monitored using non-invasive sensors. The data is then fed back in real time or recorded to be reviewed later. Clients can actually see their body's response to changing thoughts and emotions. With this knowledge comes the power to change one's physiological response.
About Dr. Erik Peper
Erik Peper, Ph.D. is an international authority on biofeedback and self-regulation and since 1971 he has been researching factors that promote healing. He is Professor of Holistic Health Studies / Department of Health Education at San Francisco State University. He is President of the BFE and past President of the Association for Applied Psychophysiology and Biofeedback. He holds Senior Fellow (Biofeedback) certification from the BCIA. He was the behavioral scientist (sport psychologist) for the United States Rhythmic Gymnastics team. He has a biofeedback practice at BiofeedbackHealth (http://www.biofeedbackhealth.org). His most recent book is "Fighting Cancer: A Non-Toxic Approach to Treatment" co authored with Dr. Robert Gorter, MD, Ph.D.
About the BFE
The BFE-LFB program provides continuing education via conferences, seminars, workshops, internet courses, and software for professionals around the world. Content is developed independently by International Research & Education Project teams. Financial support comes from the Biofeedback Federation of Europe, a non-profit Community Interest Company located in London, England. For more information, visit the BFE Online Shop. The next BFE Annual Conference , their seventeenth, is scheduled to take place February 11-15, 2014 in Venice, Italy.
Contact:
Carol Meyers
BFE Education Manager
education(at)bfe(dot)org