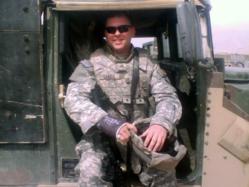 I was touched by Andrew's story and his desire to overcome adversity along with his commitment to serve, and so CareOne decided to show our support by paying off his debt.
Columbia, MD (PRWEB) December 27, 2012
CareOne Services, Inc., the largest provider of CareOne Debt Relief Services®, presented Staff Sergeant Andrew Landis of the National Guard a check for nearly $20,000 to formally pay off his debts through the CareOne debt management plan. The check presentation was made today by CareOne's founder Bernie Dancel during the halftime celebration at college football's 2012 Military Bowl, an event presented by Northrop Grumman at Robert F. Kennedy Memorial Stadium in Washington, DC, and airing live on ESPN.
"I was touched by Andrew's story and his desire to overcome adversity along with his commitment to serve, and so CareOne decided to show our support by paying off his debt," said Dancel. "Andrew now has a second chance at a bright future after fighting so ardently for the freedom of others as a member of our Armed Forces."
CareOne is a Three-Star Sponsor of the 2012 Military Bowl and also donated 150 tickets to today's game to active-duty servicemembers as part of that sponsorship.
Landis is currently a Staff Sargent in the U.S. National Guard, following a tour of duty in Afghanistan. While abroad, he found it difficult to manage his family's expenses from several time zones away and was subsequently wounded. Once home, he had difficulty making ends meet. Landis lived off credit to get by and fell five months behind on his mortgage.
Frustrated with creditors and his personal situation, he sought help and became a debt management plan customer with CareOne about one year ago. As a result, he is getting his life and finances under control. Around the same time, he found a high school teaching job and additional work as a DJ. Now, with his debt off his shoulders, Landis can start anew.
"A person should be allowed to choose a life of service and not be penalized for or looked down on for that choice," Landis said. "I see daylight now and am truly thankful. CareOne cares."
"I do not know where to begin—what to say," said an emotional Landis upon learning CareOne was paying off his debt. "This is so much more than helpful. A thousand times thank you from the bottom of my heart. I cannot believe this is happening."
CareOne's founder Dancel is happy to help. "As someone who experienced mounting debt in my younger years, I know how helpless you can feel when you have debt. That's why I'm in the business of helping others and why CareOne is committed, particularly to military servicemen and women who face unique financial challenges, to ensuring that what happened to me doesn't have to happen to others. It gives me great joy to present this check to Staff Sergeant Andrew Landis today."
CareOne providers represent the nation's largest brand of debt relief services with over 5 million people helped to date. CareOne founder, Bernie Dancel, and many CareOne employees know what being in debt is like, and more importantly, what it takes to get out. CareOne is revolutionizing the industry as the only provider offering a full range of debt relief options for consumers to select the most suitable solutions for their needs. CareOne is also proud to serve as an unbiased advocate for consumers, without any financial connection with creditors, unlike other providers who receive financial compensation from creditors and customers. Visit CareOne for more information about the company and services.