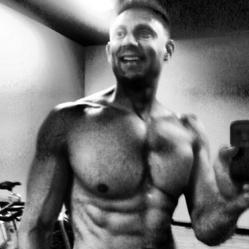 Monroe Wisconsin (PRWEB) December 26, 2012
With the new year right around the corner it is time to start thinking about new years resolutions. One of the more popular new years resolution is to either stop a habit or to lose weight. Sadly though most new years resolutions do not last more than a few weeks.
Obesity has become growing concern in America. This is because eating habits have changed over the years. No longer is a home cooked meal the norm. Families are now having to schedule time to eat together, and just because a family is eating together does not mean that they are eating a home cooked meal. Children are learning these atrocious eating habits and they will pass it along to their children. Scott Tischler conscience understands that to live a healthy life takes healthy eating habits and exercise.
Scott Tischler recently helped his brother, Troy Tischler, lose 163 pounds of fat in a year. Scott Tischler loves to work out and is not a personal trainer. Here are some of Scott Tischler's secrets that helped Troy Tischler lose all of that weight.
The number one thing to remember is that healthy weight loss comes from the kitchen. The diet should avoid anything with excess sugar, high carbohydrate content, and high fructose corn syrup. The best thing to eat is green vegetables, and lean meats such as chicken. However, the best results come from a healthy combination of proper eating habits, and cardiovascular exercise. This combination of cardiovascular exercise and diet will allow for the optimum weight loss.
The second thing to remember is that consistency is the key to success. Nobody is perfect and slip ups on diet and or exercise are bound to happen. The important thing to remember is to get back to exercising and proper diet as soon as possible. Occasional slip ups are fine as long as they do not become the pattern.
Positive thinking and having a positive self-image is one thing that most people struggle with the most. The mind is a very powerful tool and it should be utilized to the fullest extent. The mind does not hear contradictions. The best way to utilize positive thought and positive self-image is to control what the mind thinks. If the mind hears every day that the body is in great shape and healthy then it is more likely that the body will be in better shape and healthy.