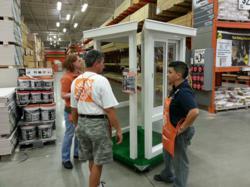 Shoppers can see and touch a wide range of materials, even before they decide to get an estimate.
MIAMI, FL (PRWEB) December 27, 2012
It didn't take long for shoppers in Home Depot 6326 in Weston, Fla., to start checking out the custom-designed, custom- built Venetian Builders, Inc., display showcasing material and design options for aluminum sunrooms, patio covers and screened pool enclosures.
"Notice how the customers are looking at it," Valencia said after the mid-December delivery, "even if they don't need Venetian's services."
"I love it," said Weston Home Depot lead generator Maria Katryniok. With that kind of attention, she reasoned, even window shoppers, in time, can turn into purchasers.
With the Venetian Builders display, customers don't have to be window shoppers, in the literal sense. They can also be shopping for aluminum doors, an insulated roof, screened or insulated patio walls, or a screened pool enclosure. Examples of the materials that go into those Venetian projects are all on the 4-square-foot, 6-foot-tall display, which opens to expose 8 running feet of materials and design options.
Venetian Builders is the exclusive installer of quality Weston sunrooms, patio covers, insulated patio enclosures and screened pool enclosures in that Home Depot and in 29 other Home Depots in South Florida. Each store in the Home Depot-Venetian Builders partnership will receive a sales display.
Neil Thompson, Venetian liaison with Home Depot, says the display affords an opportunity no other installer provides. "Shoppers can see and touch a wide range of materials, even before they decide to get an estimate," Thompson said.
Once shoppers decide to seek a free, written estimate, a Venetian Builders estimator visits their homes with an even more-detailed display of products and designs to help them decide.
Brian Cespedes, Venetian lead estimator, said estimates are detailed for a reason. "The more detailed an estimate is, the less likely you are to have surprises," he says. That pleases customers, Cespedes says.
Christopher Noe, Venetian president, says Weston is a good place to expand services. "In Weston, 74 percent of households own their home, according to the U.S. Census Bureau -- 5 points more than the state average," he says. Weston is also well-educated, the Census Bureau notes, with 58 percent of residents 25 and older having earned at least a bachelor's degree, more than double the state average. More than 30 percent of its population is under 18 years old.
Venetian serves Weston, Miami, West Palm Beach, Fort Lauderdale, Miramar, Homestead and surrounding communities. For more information, call Venetian Builders, 866-596-2427.