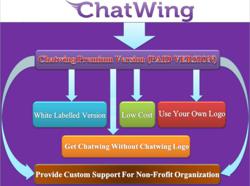 San Antonio, TX (PRWEB) December 28, 2012
Chatwing, one of the best chat application companies, has recently introduced an interactive and free chat widget for GoDaddy website owners. The company targeted GoDaddy website owners because they comprise a large portion of the Internet. Chatwing's micro-chatroom app is known for its versatility, helping thousands of web users achieve their online purposes. The Chatwing app has been used for marketing, social media exploration, and lead generation.
Website owners specialize in different niches but all of them have one thing in common: information. Chatwing's premier chatbox can help website owners spread information in simple ways. The Chatwing app also allows social media login method—an option favoured by online marketers and people who are looking forward to making friends.
Chatwing's chat box can also be used as a concise online presence tool by transforming the website into a chat lounge where visitors can share notable information. The Chatwing app has helped hundreds of website owners reach high levels of online visibility. To cope with the growing influx of users, the Chatwing team has improved the chat platform's overall speed and rate of efficiency. Moreover, customization options and admin controls were also added by Chatwing's developers.
Chatwing will continue providing innovations to its free chat widget. In this way, more GoDaddy website owners can experience a new form of website communication. Information about these updates is often posted in Chatwing's Facebook page and blog series.
About Chatwing.com
Chatwing.com specializes in the new field of website chat. Over years, the Chatwing team has introduced live chat widget for hundreds and thousands of blogs. The Chatwing application bridges people from many parts of the world, creating global synergy through the Internet. The shout box can be installed in just seconds, and it can be used for varying purposes such as leisure and Internet marketing. It also allows a user to customize the size, color, and name of the widget.