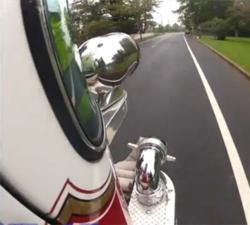 A high definition video camera like GoPro is a great way to show the bravery and heroism of a firefighter at work...
Neptune, NJ (PRWEB) December 28, 2012
All Hands Fire Equipment is pleased to announce the addition of GoPro HD video camera to their line of professional quality camera products: http://www.AllHandsFire.com/GoPro-Video-Cameras
GoPro HD cameras have joined Dräger thermal imaging cameras already offered by All Hands to provide the most accurate, high quality imaging technology available to firefighters, rescue workers and others in need of a durable imaging solution.
Adventure enthusiasts often find themselves in a variety of extreme environments all over the world. Many of these places also happen to be the most majestic, making for truly breathtaking photos. In recent years these adventurers are often also amateur photographers who use the latest technology to capture their journeys on video and in still images. GoPro is the solution for capturing crystal clear video with a durable camera that can accompany thrill seekers in even the harshest corners of the globe. Surfers, kayakers, motor cross riders, hunters, mountain bike riders, climbers and other adventure sportsmen and women can capture hours of action on GoPro HD cameras.
"Firefighters find themselves in incredible environments and witness amazing events. A high definition video camera like GoPro is a great way to show the bravery and heroism of a firefighter at work." Said Chief Donald Colarusso veteran firefighter with more than 25 years experience. "Whether it's a mountain rescue, a structure fire, a technical rescue or even a firefighter training drill. Firefighters can all benefit from the video" .
The GoPro HD camera can capture still photos in addition to HD video and on offer are a variety of accessories enabling various mounting configurations. As a result, the high quality videos and images that are produced by a GoPro camera can be shot from many unique perspectives that are not so readily possible with a conventional camera setup.
All Hands Fire Equipment is the very first company to introduce the GoPro line of cameras and accessories to the fire rescue service. All Hands Fire Equipment is inviting firefighters, public safety professionals and adventure enthusiasts to visit the GoPro website and view the widely popular Fire Service video, which was shot entirely with GoPro HD cameras.
Not to be outdone, Drager thermal imaging cameras remain extremely valuable tools for maintaining orientation when fire, smoke and darkness make navigation difficult. Search and rescue operations are made significantly easier with the use of the Dräger Thermal Imaging Camera. The range feature a minimum resolution of 160 x 120 pixels and a 47 degree field of view ensuring that users are always informed about the details of their environment. The only intrinsically safe Thermal Imaging camera's the Dräger UCF TIC camera series are designed to meet and exceed the NFPA 1801 standard for thermal imaging cameras. The lightweight, ergonomic design gives the camera a natural feel, providing the ease of a true one handed operation.