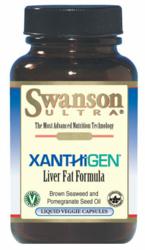 Fargo, ND (PRWEB) December 28, 2012
Overindulgence during the holiday season is expected. From parties to family gatherings to the break room at the office—rich foods are in abundance and overeating happens too easily. While weight-gain is an obvious ramification of overindulging, another is excess strain on the liver. When the liver is not able to maintain metabolic functions, fat accumulation begins. New Swanson Ultra Xanthigen® Liver Fat Formula from Swanson Health Products promotes healthy liver function and supports systemic health to defend against fat accumulation in the liver.
Swanson Ultra Xanthigen® Liver Fat Formula features a proprietary blend of brown seaweed extract and pomegranate extract to promote healthy liver metabolism as well as total-body wellness. Brown seaweed contains fucoxanthin; pomegranate oil contains the nutrient punicic acid. Together, these compounds support the liver's role in overall fat metabolism and help maintain healthy lipid levels.
Swanson Health Products is an industry leader in bringing vitamins directly to consumers at the lowest prices possible. Swanson Health Products, headquartered in Fargo, ND, offers the highest quality vitamins, supplements and natural health care products and is Good Manufacturing Practices certified. Swanson Health Products goes a step beyond its competitors by offering powerful guarantees. All products are backed by a 100% Satisfaction, Money-Back Guarantee. For more information, please visit http://www.swansonvitamins.com.