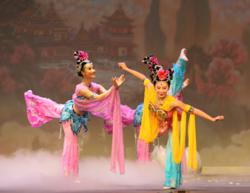 "I've seen China before with my eyes, but this show had me experience China with my soul," a well-traveled New Yorker.
Los Angeles, CA (PRWEB) December 28, 2012
The China the world sees today is far from the grace and integrity of ancient China. Ancient Chinese culture was rich in beauty and rooted in the principles of Daoist and Buddhist traditions. A reverence for nature and compassion for one's fellow beings guided all aspects of life in ancient China.
Shen Yun Performing Arts is a world class company whose mission is to restore to the world the experience and wonder that is the genuine history and expression of Chinese culture, a culture which those in power in modern China have tried to destroy for the last 70 years. Overseas artists founded Shen Yun in the United States because they knew that freedom of expression could provide a vehicle to show the world the true China they love and are passionate about. Join Shen Yun as they reveal the hidden gems of ancient China, which are deeply rooted in tradition, as well as moral and spiritual values.
Each vignette is a gateway to another realm, with backdrops that draw the audience into the experience. The live orchestra has all original music, and an exquisite blend of Chinese and western instruments. Shen Yun translates as "divine beauties dancing". Each performance showcases distant lands, regal dynasties and mystical realms. The audience will be delighted as the authentic story of Mulan unfolds on the stage, or the brave and resourceful Monkey King and his fellow travelers embark on a pilgrimage to India, or the Moon Goddess experiences a forlorn separation from her archer husband. Every ancient heroic tale nurtures people's soul by bringing lessons filled with inner peace, respect, self-sacrifice, humility and the deep, abiding inner strength and wisdom that comes with the veneration of heaven and earth. Tales of courage and integrity from contemporary China also resound with these ancient ideals.
As Shen Yun whisks audient members away from the chaos of modern China into the peaks of China's dynastic glory and humble villages, time seems to stand still. From a visit to the Himalayas, or the lush lake-side in Yun Nan the audience will see a side of China not seen in today's world. A China filled with simple dignity, and expressed with stunning performances and unforgettable music!
This is China as it should be, a China 5000 years in the making. Don't miss it!
Shen Yun will be performing at the Segerstrom Center for the Arts, Thousand Oaks Civic Arts Plaza and Dorothy Chandler Pavilion from Jan 18 to Jan 27. 2013. For detailed information, please visit LAspectacular.com, or call the hotline at 1-800-880-0188.