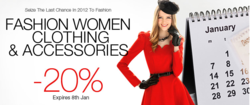 Chengdu, China (PRWEB) December 28, 2012
New Year's coming is such an obvious hints that women's desire for fashion was called by quite like the impeccable styles. Global women style supplier Milanoo launches its special women clothing and accessories fashion collection, introducing sexy bustiers and corsets choices for glamour, shining club wearing styles and electrifying women fashion dresses as well as accessory essentials for both street chic and New Year vogue.
In special Milanoo woman collection, clothing matching was extremely emphasized essential dressing-up ideas for making a feminine statement with charming styles. If you decide to go classic for Christmas dinner, Milanoo really brings hot black club dresses as the fashion flock descended on those spot light moments of party with your friends. For women's sexy New Year's Eve fashion needs, it is easy to find in Milanoo women collection seductive corsets to master a bountiful intimate occasion with your lover. To polish up any trendy look at the office party, special women dress choices add you glamour in center stage for the best style captured in this Milanoo women dresses collection.
Milanoo collects many accessory essentials like belt, gloves and hats to manage the overall look. Wearing a belt is always helpful in playing up a small waist and grounding the dominant hue of dresses. Belt choices of Milanoo are ranging from bow, flower chain, to leather trends. Dressing up your hands in winter is not only for warm keeping but also fashion matching necessities. Milanoo designs of glove and earmuff for this winter brings the fingerless, full finger, five fingers wool trends. Hats in this Milanoo collection explain the meaning of cuteness, introducing cony hair pattern, beret, and flower wool styles. All the accessories above are really the street chic makers in the season.
To be helpful for fashion lovers in finding women fashion trends, Milanoo clothing and accessories collection provides special styles with affordable prices, especially big discounts of 20% off are offering before Jan.8, 2013. Dedication to professional service, fast delivery and quality products makes Milanoo well known all over the world.
About Milanoo
Milanoo is a leading transnational online retailing B2C China-based corporation, specializing in providing wedding and special events dresses, Cosplay costumes Zentai suits and other widely selectable styles of apparel and accessories to meet the expectations of especially women customers. A snap shot of grasping the trend of global fashion, Milanoo is willing to share "passion for fashion" philosophy and pass "oriental fashion" conception throughout the world.