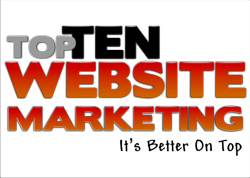 We Deliver Results!
Hollywood FL. (PRWEB) December 31, 2012
Hand-coded websites have been proven to increase success in global and local Internet Marketing, Search Engine Optimization, R.O.I. (Return on Investment), and overall productivity for businesses and companies of all sizes and specialties. Top Ten Website Marketing only and always uses hand-coding in the development and maintenance of their websites, never uses templates, and always consults with clients to ensure full customer satisfaction and optimal end results. Currently, along with a Search Engine Optimization package through this trusted and reputable company, one will also receive a complimentary hand-coded, individualized website for the month of January. The website will be customized according to the WC3 guidelines and will be Search Engine-friendly, therefore increasing exposure in Google search results, targeted traffic, and overall productivity, especially for local Internet Marketing.
There is a multitude of reasons for choosing a hand-coded website rather than any type of template or a Build-a-Website-in-Ten-Minutes-Script, the most obvious being that with hand-coding, websites may be created and personalized to the client's exact specifications to perform in the most productive and successful way, best suiting his or her individualized needs. For example, with Top Ten Website Marketing, clients are given the opportunity to aid in the actual design of their websites in regards to fonts, colors, image placement, links, etc. Also, for optimal Internet Marketing and Search Engine Optimization, they can choose the exact content and key phrases pertaining to their specific targeted audience, focus only on the relevant details, and bypass all extraneous factors that come with templates, such as distracting widgets, advertisements, and unnecessary overloaded scripts, therefore increasing exposure and quality traffic to their websites.
Quite simply, this process requires less page code, focuses only on the important and relevant content, and eliminates all unnecessary items, all of which produce smaller files. This in turn increases the speed and success of Search Engines and makes website access faster and more user-friendly; even dial-up users are able to load hand-coded websites quickly. In addition to the aforementioned factors and the freedom and flexibility of creating the ideal personalized website, hand-coding not only results in the production of more consistent and user-friendly websites, but it also increases the difficulty of these websites being compromised or breached by spammers and/or cybercriminals as well.
Media Contact:
Pete Pekofsky
Phone: 305-970-5699
Email: web (at) metroseo (dot) net
http://www.top-ten-website-marketing.com