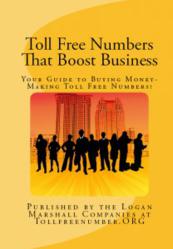 Quite regularly people email us to find out more about toll free numbers - So I wrote this book
Irvine, CA (PRWEB) December 27, 2012
Tollfreenumber.ORG, an American-based company providing toll-free phone services since 1999, has just released an informative eBook that is speculated to become the "go-to" guide for all who wish to learn more about toll free numbers and how to boost business with a toll free number. However, those who choose to visit the site and sign up will receive a no-cost copy of the Book for a limited time.
Logan Marshall, Founder of Tollfreenumber.ORG, wrote the book to address the questions that he often received from people interested in toll free numbers, who simply did not know where to begin the process of obtaining an 800 number or about the benefits that it could achieve.
"Quite regularly people would email me to find out more about tollfree numbers," Marshall stated. "They would want to know about the service providers, how to select a number, and so on. I decided that it was time to write a Book that addressed all these issues and covered a variety of other phone number topics as well such as how-to market your business with a tollfree phone number."
The eBook is already receiving praise from its early readers. Tollfree specialists are speculating that it may very well become a must-read for those who are new to the tollfree number world, or even those who want to know more about how to make money with a tollfree number.
If you would like more information about this topic, please visit the TollfreeNumber.ORG website at http://www.tollfreenumber.org/toll-free-ebook/.
You may also visit the website or call 1-800-951-9411 to purchase a toll free number service.
TollFreeNumber.ORG is a world class provider of toll free number services to small and home based businesses in North America. We are a subsidiary of California Online Internet – an Irvine, California USA based company. We began servicing the private sector in 1999 and continue to see strong growth each quarter.