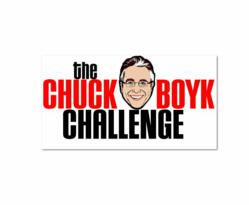 Toledo, Ohio (PRWEB) December 27, 2012
The Chuck Boyk Challenge is an ongoing charity event aimed to highlight local charities. It works by asking citizens to vote for their personal favorite organization. The top 3 charities with the most votes will win cash prizes totaling $5,000. Attorney Charles Boyk had initially announced the first three charities participating, he has now announced charities 10, 11, and 12. There are a total of 15 charities participating. Here are the next charities participating:
10. Life Connection of Ohio
Life Connection of Ohio promotes and facilitates organ donation in northwest and west central Ohio. There are more than 116,000 people awaiting life-saving organ transplants in the United States, including over 3,400 Ohioans. The good news: One person can save up to eight lives through organ donation and 50 more through tissue donation.
11. Because Our Love Is Needed
BeCause Our Love Is Needed exists to help children that suffer from illness, poverty or significant life challenges by offering financial relief to them and their families.
12. Aurora House
Aurora Project, Inc. was established in 1986 to provide service enriched housing to homeless women and their children.
For a full list of the charities involved, visit http://www.thechuckboykchallenge.com