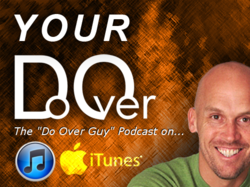 Life is a people business, and you are an average of the five people you hang around most.
Los Angeles, CA (PRWEB) December 31, 2012
Over the holiday break, Greg Reid of the Napoleon Hill Foundation sat down with Matt Theriault for a spur-of-the-moment interview to share his story and some special words of wisdom for the New Year with Matt's podcast audience. Matt Theriault, host of the Your Do Over podcast on iTunes, has been showing people since mid 2010 how to start over in life so that they can live their lives to the fullest. Through Theriault's own personal stories of success, lessons of personal development and interviews with inspiring guests (e.g. Greg Reid), thousands of lives have been positively impacted by the podcast.
Near the end of the Greg Reid interview, Reid extended the first public invitation to Theriault's audience to participate in his newest project, The Secret of Happiness, by submitting to his website the ideas of what happiness means to them, what makes them smile and what makes them feel good. Many of the testimonials and stories submitted will be published through various media channels associated with the project.
Following Greg's literary successes (Three Feet From Gold, Road to Riches), The Secret of Happiness is a multi-media project of which brings together some of the world's most discerning thinkers to share their secrets of happiness. "This project is not about me," Greg explains. "It's about us. Not only will people be able to read, watch and interact with some of the most brilliant minds of our time, but we'll be offering an implementation system of which they will be able to track, grow and learn about what makes them happy."
Greg's passion for helping people is evident during the entire discussion with Matt by his genuine, down-to-earth and gracious disposition. The Secret of Happiness project is an extension of Greg's very being. Throughout Theriault's interview, Reid shares his personal story, experiences and wisdom freely. It's apparent that the two are of like mind, particularly when it comes to the notion that one's environment and the people that they associate with will impact a person's outcomes in life more than anything else.
The distinction between council and opinion, the influence of what people read, and the importance of participating in a mastermind group are also discussed during Reid's and Theriault's back-and-forth. The interview (Episode #063 - Life is a People Business with Greg S. Reid) in its entirety can be heard by searching Your Do Over in iTunes or via the Stitcher App on any smart phone.
To learn more about Greg Reid's latest project, go to http://TheSecretOfHappiness.com or contact him directly at greg (at) gregsreid (dot) com. People concerned with how to start over in life can learn more about Matt Theriault at http://theDoOverGuy.com, or call his Los Angeles office directly at (213) 587-0084.