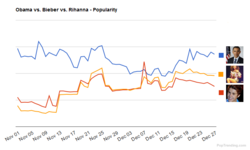 Justin Bieber briefly surpassed Obama's long-held lead as the most popular person
Philadelphia, PA (PRWEB) December 30, 2012
In recent weeks, PopTrending.com has observed a three-way convergence of the popularity trends of Justin Bieber, Rihanna, and Barack Obama. They each hold prevalent scores in News, Social Media, and Web popularity. Currently, Barack Obama is holding-on to a narrow lead with Bieber and Rihanna trailing close behind.
President Obama dominated the news at the height of the election in November, and had a considerable presence in the blogosphere and on social networking sites. However, in early December, as post-election news coverage waned, and campaign staff tapered off their efforts to pump-up the President's social media trends, pop sensation Justin Bieber briefly surpassed Obama's long-held lead as the most popular person in PopTrending.com's daily ranks.
Obama quickly regained his position, mainly as a result of News coverage of the fiscal cliff, but currently appears to be dipping back down to levels where he may once again be overtaken. In the meantime, superstar singer and actress Rihanna has surged in recent PopTrending.com ranks and is now well-situated in the number two slot, bumping Bieber down to number three.
Rihanna is by the far the most popular public figure on Facebook with over 65 million Likes, adding an average of 53,000 new Likes per day this month. Of the three, Justin Bieber has the strongest Twitter following, with over 32 million followers, recently adding an average of 35,000 new followers per day. Obama currently has approximately 35.5 million Likes on Facebook, and just over 25 million Twitter followers.
President Obama continues to dominate the news with his name appearing in an average of nearly 100,000 online news reports every day this month, compared to approximately 11,000 for Justin Bieber, and just under 10,000 for Rihanna.
As the year 2012 comes to a close, it is difficult to predict which of these pop culture icons will prevail in this tight race to top PopTrending.com's daily rankings of the most famous people. Stay tuned for updates as we enter the New Year to see who ends up on top.
PopTrending.com uses a proprietary algorithm to calculate daily popularity scores for hundreds of celebrities and famous public figures based on dozens of metrics including frequency of appearance in the news, activity on social networking sites, popularity in search engines, and presence in popular web content.
For more information on please visit http://poptrending.com.