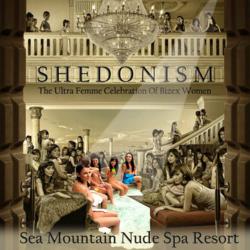 Sea Mountain Resort lifestyles Nude years eve-now you know what not to wear
Los Angeles Palm Springs California (PRWEB) December 29, 2012
Don't worry about what to wear to the all nude, couples only resort and spa hotel. Sea Mountain Spa, a luxury green hotel and spa with a 24 hour disco and 24 hour clothes-free hot mineral water pools has sold out for their fifth annual NYE Lingerie and Less event. Upscale and elegant free thinkers and lifestyles couples enjoy sold out celebrations all year at this hotel known by VH1 as the ultimate celebrity secret. This year the Nude Years eve celebration has a host of private celebrities and http://www.21spa.com has the finest foods and beverages that California has to offer.
With costs for hotel rooms sold out at over $1,700 this couples only clothing optional celebration often sells out months in advance. This unique luxury clothes-free spa, hotel and day and night club, Sea Mountain Spa, is open every day of the year with clothing optional pools of mineral waters at 100 degrees in Sunny DHS Palm Springs area of California. The Sea Mountain Resort also boast costume and lingerie Halloween events even in the winter. The Sea Mountain clothing optional spa also has an almost exclusive female staff, ensuring there are no lurkers on the premises and is the only all inclusive resort in the USA.
Sea Mountain is an extremely sensual hotel. All rooms have high end art, complimentary plush designer robes and slippers, a microwave, the highest thread count sheets, Gilchrist and Soames amenities, candies, complimentary adult streaming and complimentary condoms and free lubes and other unmentionables. All of the settings are up to 4 star accommodations with numerous awards for the hotel.
People ask Dewey, the owner, why he is allowed on the clothes-free property if its mostly a female staff with a female centric point of view. The ex-rockstar, Dewey, laughs and points to his beautiful wife and partner, Julie Vohl, the supermodel from Texas whom he has been married to for 28 years. All information is encrypted for guests privacy. Guests come from all over the world to experience one of earths most unique resorts. Upon check in guests will notice there are signed photos from academy award winners to signed pictures of the worlds most elite rock stars to CEOs of fortune 500 hundred companies to maybe even some of our famous politicians.
Dancing in lingerie or nude with Vegas famous DJs-Sea Mountain brands is launching a multimillion dollar venture in Las Vegas, Nevada, Miami, Florida, Maui, Hawaii, Puerto Vallarta, Thailand and even in West Hollywood.
Sea Mountain Spa: hotel, club, night lounge, day club and whatever else you want to call it.
http://www.21spa.com
760-251-1230