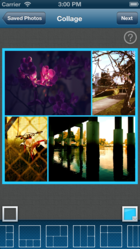 Streamzoo continues to develop unique, complementary features that combine to produce the most complete photo sharing experience
Sunnyvale, CA (PRWEB) December 29, 2012
Recently named Mashable's number one alternative to Instagram, Streamzoo makes a big release to iPhone and Android offering six brand new filters, two extra borders, and a fun spin on photo collaging.
Available today in Google Play and the Apple App Store, Streamzoo v3.0 reveals six brand new and fun filters to the collection. The new additions—Dusk, Retro, Lucid, and Noir—are immediately noticeable. Long time users will also notice their all-time favorite filters, Lomo and Xprocess, have been given a makeover to more closely recreate their namesake photographic effects. Along with these new filters, two extra borders have been added. The artsy user will enjoy the Triptych border, while those who are looking for an analog feel now have the new Film border. The most anticipated new feature is the Photo Collage. Streamzoo users can now mix and match up to nine photos and arrange them into one of 32 possible collage patterns. Each collage is unique to the user with the option of rounded or sharp corners, and a variety of border colors and textures.
"Streamzoo continues to develop unique, complementary features that combine to produce the most complete photo sharing experience," said Ram Ramkumar, CEO & Co-founder of Streamzoo. "From the initial snap and filtering to sharing with the world, Streamzoo gives users the tools and the platform on which to create a uniquely engaging photo sharing community."
About Streamzoo
Streamzoo is developed by Phonezoo Communications, Inc., a Silicon Valley based company specializing in providing mobile products and services worldwide. Streamzoo helps users share, organize, and discover #streams of mobile photos and videos. Not only is it a photo-sharing application, but Streamzoo also allows people from all across the world to connect in a creative way and see through the eyes of others.
###