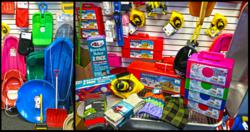 Elma, NY (PRWEB) December 30, 2012
Winter has officially hit the Western New York area and the Made In America Store is fully stocked and ready to help any consumers stricken with snow. With their full lineup of 100% US manufactured products, there is no job that can't be resolved with a visit to the Made In America Store.
Get 100% US manufactured products from over 300 vendors at one location, the Made In America Store.
To get ready for the colder climates, people need to be dressed for the harsh weather. The Made In America Store brings scarves from Terranova Activewear, a Buffalo based company that manufactures posters, stickers and even drinkware. The scarves come in Black, Navy Blue, Red and Blue and are sized for adults.
Wigwam brings over 40 different varieties of socks to the Made In America Store, some specifically for the colder weather. Some styles like 'Canada' and 'EL-Pine' are made with a heavyweight material for comfort, warmth and durability. Also, Wigwam brings winter snow hats in a variety of colors and styles. Wigwam is a sock manufacturing company based in Sheboygan, Wisconsin.
The Made In America Store brings their self-branded clothing also for the wintery weather. The all American made products store brings Hoodies, Zip-Ups and even Fleece Pull-Overs. Some of the clothing comes in Blue, Black, Fluorescent Green and Neon Orange and can range in size from small to 4XL. Each product comes with or without the Made In America Store logo.
100% US manufactured clothing at the Made In America Store from Wigwam and Terranova Activewear.
Innovation factory comes equipped with some tools to get your car ready for the winter driving. The Ice Dozer and Mini Dozer offer multiple tools in one and are 100% made in the USA. Both tools come with a soft brush style material on one side to push the fluffy snow off the car and the opposite side comes with a tougher plastic to scrape any ice away. The Ice Dozer is a hand tool that can extend most windshields where the Mini Dozer is more of a handheld tool.
For consumers looking to replace their snow brush, the Ice Dozer and Mini Dozer from Innovation Factory offers an American made alternative.
The next supplier of snow equipment comes from Paricon LLC which offers toys for children. Snow Shovels, Snow Castle Kits, Snowball Makers and Sleds are all 100% American manufactured and can be found at the Made In America Store. The Made In America Store offers both a plastic saucer and the steel saucers, four different kinds of sleds and a toddler sled. The Snow Castle Kits come with 3 different sized containers to build blocks of snow (or sand) to create a castle or fort. Lastly, the Snowball Maker gives children a tool to make snowballs instantly and come in single or double packs.
The Made In America Store is the only brick and mortar store that sells 100% made in the United States products from over 350 vendors. Consumers can visit http://www.MadeInAmericaStore.com or call 716-652-4872 to get more information or shop our catalog of over 3,500 items. Both Active Duty Military Personnel and U.S. Military Veterans receive a 10% discount every day. Followers of the "Made In America" movement can keep updated with the Made In America Store through Facebook, Twitter, Google+, Pinterest, FourSquare and even their own blog on Wordpress!