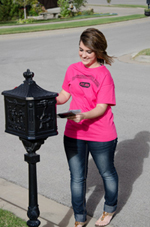 "Safety is and always has been our number one priority. We thoroughly screen all sitters to ensure that before you let someone into your home, he or she has passed our background investigation and meets our strict standards." - Adrienne Kallweit
Tulsa, OK (PRWEB) December 31, 2012
SeekingSitters, a national babysitting company that does all of the work for its families, is expanding and adding more services in the New Year. Due to demand from their current customers, the company is now offering house sitting, pet sitting services and study support services. SeekingSitters does all of the work, finding professional sitters, performing face-to-face interviews, screening professional sitters and matching them with families. In addition, the company has in-house private investigators that perform a customized background investigation of all professional sitters and member families. SeekingSitters was founded by a mom who is also a licensed private investigator.
"Safety is and always has been our number one priority. We thoroughly screen all professional sitters to ensure that before you let someone into your home, he or she has passed our background investigation and meet our strict standards. After eight years of developing expert child care referral services for our clients, we are responding to a demand from families to provide the same safe, reliable service for house sitting and pet sitting," said Adrienne Kallweit, founder and owner of SeekingSitters.
The company's new services will begin January 1, 2013.
House Sitting – the company will work around the customer's specific needs and provide online updates for homeowners while away from home. Some of the services include getting the mail, watering plants, taking out trash and turning lights and blinds on and off. They will also provide safety monitoring.
Pet Sitting – Whether the pet owner is just working long hours or travelling, the SeekingSitters team will care for the pet in their home. All pet sitters have extensive experience working with animals.
Study Support - In addition to these new services, SeekingSitters' professional sitters can also provide study support services. Professional sitters already help with study support during babysitting events, but this expanded service focuses on helping older students that do not need babysitting care. The sitters can assist children with their homework assignments, test preparation and in organization their studies and assignments.
SeekingSitters just unveiled a new website this week that outlines all of its new services and explains its screening and safety process.
SeekingSitters was founded after Kallweit and her husband struggled to find reliable sitters to care for their three children. They started their own babysitting screening and referral service in 2004 in Tulsa. They expanded nationally in 2006 forming a franchise system which now has 57 locations in 23 states. Kallweit is a licensed private investigator and has in-house investigators who conduct thorough background checks..
Adrienne Kallweit is available to talk about the company's expansion and its new services. She can also discuss the importance of screening and the need for thorough, accurate background investigations when choosing a sitter to watch your children, home or pets.
About SeekingSitters
SeekingSitters was founded in 2004 in Tulsa, Oklahoma and franchised in 2006. SeekingSitters services 57 locations in 23 states. SeekingSitters is a nationally recognized babysitting service providing a reliable, convenient and trustworthy babysitting solution for families – from last minute child care to regular scheduled services. In addition, SeekingSitters now provides house sitting, pet sitting and study support services. SeekingSitters has been featured on CNN, CBS News, Headline News, in Entrepreneur Magazine, FoxNews.com, on CNBC show "The Big Idea with Donny Deutsch" and was named one of the "25 Best Women-Owned Businesses" by Working Mother Magazine in 2008. Please visit http://www.seekingsitters.com