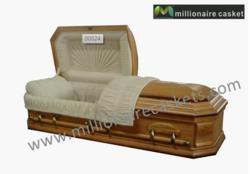 (PRWEB) December 30, 2012
Today, MillionaireCasket.com, a leading casket company, proudly introduced its American style oak casket collection, which comes complete with a beautiful ivory interior. Fitted with an adjustable bed and mattress, the inside lid is depicting a beautiful picture of the oak leaf.
According to Zoe Wong, CEO of the company, their American style oak caskets are 100% produced with the high-quality craftsmanship and materials, and come with a special locking system that makes the metal caskets difficult to open once it has been closed.
The American style oak casket may be the most popular type of casket available, and MillionaireCasket.com has promised to spare no energy to provide their best products for costumers as well as fast delivery.
Zoe Wong, said, "Here, no one will pressure you to hurry and make a choice or trying to get you to buy the most expensive casket. Take your time and talk over choices and options and honor your loved one by giving them the ability to have exactly what they want. That can be the best way to honor them since that's the last opportunity you may have."
"We offer a comprehensive range of affordable caskets with free shipping service. No matter oak casket, wood casket, or metal casket, you can find a suitable product here." Added Zoe Wong.
In addition, MillionaireCasket.com has launched a promotion for all its American style oak caskets. All customers can get a discount, up to 30% off, if they place an order before Jan. 20, 2013.
About MillionaireCasket.com
MillionaireCasket.com is a leading casket manufacturer. This company offers an exquisitely crafted line of all kinds of metal caskets, wood caskets, veneer caskets, cremation caskets, rental caskets, orthodox caskets, infant or over-sized caskets and European style coffins. The standard quality control policy is strictly applied here, and a third party quality assurance is also available.