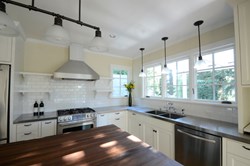 'The clients were amazed when they moved back into the remodeled home,' said Aaron. 'They said the space not only looked beautiful, it also felt massive.'
Portland, Oregon (PRWEB) December 31, 2012
Portland and Seattle remodeler Hammer & Hand announced today the completion of a 1914 home remodeling project in Portland's Taylor's Ferry neighborhood. Hammer & Hand collaborated with Emerick Architects to renew the historic Portland home to accommodate the needs of a modern family.
"It was awesome to work with Emerick Architects again," said Hammer & Hand Director of Operations Aaron Stevens. "Their development process aligns nicely with ours, with its focus on providing an early sense of design and pricing and really listening to what the clients and their family were asking for."
The home had already undergone decades of tweaks and modifications, pushing the structure's utility to the limits. When the clients wanted to do a home remodeling project, small adjustments were no longer an option. So the builder-architect-client team began a complete reset of the home.
"When the clients came to us, I was really impressed with how they had squeezed every last ounce of utility out of the structure," said Aaron. "You don't get much more green than that! It was either tear it down, or dive in and renew it. So an intensive, whole house remodel really felt right to everyone."
The design and aesthetic of the home remodeling project was guided both by the clients' desire to stay true to the original character of their family home and opportunity to take advantage of a more modern, open interior architecture.
The remodeling team added windows and doors to open up the kitchen space, allow natural light to fill the room, and connect it to the back deck and vibrant garden beyond.
Emerick Architects employed bright materials throughout the design of the home remodeling project to bring more light into the house. Hammer & Hand used Oregon-sourced reclaimed historic white oak throughout the remodel to lighten darker areas of the home.
"The clients were amazed when they moved back into the remodeled home," said Aaron. "They said the space not only looked beautiful, it also felt massive."
Learn more about Portland home remodeling services by visiting Hammer & Hand's website at (http://www.hammerandhand.com).
About Hammer & Hand
Hammer & Hand is dedicated to stewardship of the built environment through craft and science, everything from home remodeling to deep energy retrofits to modernist Passive House structures.
Hammer And Hand – Portland: 1020 Southeast Harrison Street, Portland, OR 97214-4709 | (503) 232-2447
Hammer And Hand – Seattle: 1501 E Madison St #250, Seattle, WA 98122 | (206) 397-0558