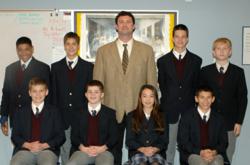 Our mission at Everest is to develop leaders who will go out and make a difference in the world. These and other academic competitions motivate the students to enjoy learning as they become proficient in a subject and gain confidence."
Lemont, IL (PRWEB) December 31, 2012
"Always Higher" is the motto at Everest Academy, where the competition for the National Geographic Society Geography Bee has just begun and is growing. Middle School students from grades five through eight prepared for months to compete in the local contest, reported Mr. James O'Keefe of Darien, the Middle School Department Head at Everest. After classroom contests took place, the class winners competed against one another. The top overall winners were eighth grader James Beecher, and fifth grader Cassandra Hamilton, both from Lemont.
"We look forward to opportunities such as these which allow our students to be exposed to healthy competition, build their intellectual skills, and share their knowledge," explained Ms. Christine Gamache, Principal. "Our mission at Everest is to develop leaders who will go out and make a difference in the world. These and other academic competitions motivate the students to enjoy learning as they become proficient in a subject and gain confidence." Geography, in particular, helps students become more understanding of, and open to the world beyond what is around them.
The Everest Geography Bee, to be held annually at the school, enjoyed the audience of the all the middle school students in grades five through eight, and parents, family members and friends who wished to attend. The top winner at Everest, James Beecher, will take a National Geographic written test in order to qualify for the State Geography Bee sponsored by National Geographic. Students from all 50 states participate in the program which is designed to encourage the teaching and study of geography. The first place winner of the National Contest held in Washington DC, is awarded a $25,000 college scholarship.
Everest Academy is an independent Roman Catholic school in Lemont educating children from preschool through eighth grade. The teachers and staff are dedicated to forming the whole child by providing the highest level of academics, by building strong character, and by preparing generous leaders ready to serve the community. To learn more about Everest Academy's winning approach to education, please contact Coleen Mast at 630-243-1995 or visit http://www.everestadvantage.org.