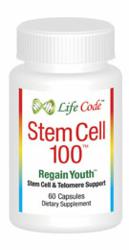 Look Younger, Feel Better and Improve Your Health with Stem Cell 100
Lakewood, Colorado (PRWEB) December 31, 2012
Children are protected from most of the problems associated with aging. As a result they can rapidly recover after am illness or injury because young adult stem cells have a far superior ability to repair and regenerate damaged tissues. With aging the adult stem cells have less capacity to repair and there are fewer available. In addition, the micro-environments that surround stem cells becomes less nurturing, so cell turnover and repair are reduced. This happens so slowly that most are only aware of it over a long period of time. Some people notice that their body changes during their 20's, 30's and 40's. Nearly everyone is aware of the difference after they reach 50 years of age. Stem Cell 100 can help people over 30 regain more youthful regenerative potential by stabilizing adult stem cell function.
Stem Cell 100 Helps to Support:
1. Adult stem cell rejuvenation
2. A healthy cardiovascular system
3. Healthy blood glucose levels for those already in the normal range
4. Healthy blood pressure levels for those already in the normal range
5. Healthy cholesterol levels for those already in the normal range
6. Younger looking skin
7. Better learning and focus
8. More endurance with vigorous exercise
9. A healthy immune system
10. Healthy breasts, colon, pancreas, and prostate
Stem Cell 100 combines ten pharmaceutical-grade natural vegetarian extracts ( SC100 ) that promote regenerative stem cells in the body. Stem Cell 100 acts by stimulating biological processes needed to promote healthy stem cells, while inhibiting the degenerative inflammatory reactions that limit stem cell function. Life Code is also developing additional supplements that promote stem cells, telomeres and have a positive benefit on other mechanisms of aging. Stem Cell 100 does not contain any stem cells. It is made with pharmaceutical grade plant extracts that have been used for thousands of years.
The statements above have not been reviewed by the FDA. Stem Cell 100 is not a preventive or treatment for any disease.
(C) Copyright 2012, Life Code, LLC