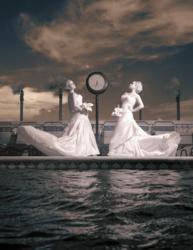 Our family had a awesome time taking photos with your studio. Thanks again for making this day so special to us!
Loris, South Carolina (PRWEB) December 31, 2012
CMMS Studio offers some tips that have helped them in 2012.
Power OFF technology devices.
Every Monday for two hours the professionals at CMMS Studio, come together for an uninterrupted meeting to exchange creative ideas. They constantly improve their techniques with up-to-date technologies that are implemented in their photography, videography, advertising, and graphic design business workflow. Consequently CMMS Studio has become a technology-driven business whose team are "glued" to either their computers or cameras all day which shortens the time they verbally communicate with one another. A breakthrough was made during one of their weekly meetings when they all took part in an informal Myers-Briggs Type Indicator assessment to measure their various personality types. This served as a "team-building exercise" which, as a result has made each team member aware of their various traits and personality characteristics and use them in ways that help address and cope with situations in a more positive and effective manner. Due to the sharing of ideas amongst the staff and their constant awareness of current technologies they are experiencing an increase in productivity and profit.
Live the opposite.
Whether a person fits the personality type of an obsessive compulsive or a messy compulsive, it is good to reverse the normal flow. Graphic designers have the stereotype of being extremely orderly with a feng shui practice because of the invisible x and y grid they live every day. They need to let go of feng shui and loosen up to some "messy" shui. Changing the routine up every day by allowing dishes, laundry or other household items to just exist without order helps. Painters, especially men, get the bad wrap of living too "free" with their chaotic piles. Devoting some time in the week to make sense of those piles and organize them as if they were a Pinterest board is a good excersise. They recommend evoking creativity by changing up the flow of the predictive sense. Use smart and easy feng shui tips to create vibrant energy in the office. "Feng shui is all about great energy, and it is needed when it comes to productivity and business success", says Megan Parker. At CMMS Studio Feng shui is practiced by following these 10 practical tips found at: http://www.workhappynow.com/about/
Give Your Desktop a Facelift.
There are times when a person subconsciously meditates on a mundane desktop background. Everyone does this at one time or another. Imaginations can be rejuvenated by finding a colorful image that goes to another time or place. Computer monitors can be set to change scenes every so often with full-spectrum images that can be rotated every 30 minutes. Exposing the eyes to different hues serves as therapy and is essential in working through the creative process. Remember the world is not simply black and white. It is filled with an array of colors and images that stimulate the psyche.
Speak with kindness to everyone
A person can look in front of a mirror daily and verbally compliment him or herself and thank God for their gift of creativity. The art realm is full of criticism – whether constructive or destructive. The use of creative friction is always helpful to see different sides of the same triangle. Even when creative disagreements arise with someone, always speak with kindness and gratitude. Ask them about their lives instead of always being all business. This doesn't mean a person needs to pry into another's personal matters; it just shows an interest in who they are as people. This allows the artistic energy to flow without "ruffling any feathers."
About CMMS Studio
Located in Loris, South Carolina, Custom Multi-Media Solutions, Inc. was founded and incorporated with the objective of providing cutting-edge multimedia services ranging from Photography and Video to Graphic Design at affordable rates to people everywhere. CMMS Studio offers a wide variety of photographic services from Commercial Modeling to General Portraiture. We believe that every customer is unique and has specific needs. We provide personalized attention to all of our clients to help meet their personal budget. Our professionals include a video production team that films weddings, dance recitals and family events as well as producing high quality TV commercial spots, documentaries and industrial/training videos. CMMS Studio offers Graphic Design solutions for small and large business with three designers that can design anything from business logos to signs, brochures, billboards and web sites. No job is too large or too small.