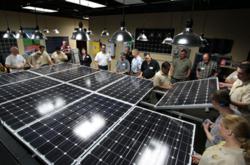 the roof is such an important part of a roof-mounted solar installation
Murrieta, CA (PRWEB) December 31, 2012
The Four Seasons solar team is led by Nelson Bardales, who says, "I participated in AE's solar installation and solar sales training this month and am excited to take this new expertise, supported by Ambassador Energy, into our roofing business. The roof is such an important part of a roof-mounted solar installation. With our knowledge of roofing, solar systems we install will be done right."
Historically, Four Seasons Roofing has offered roofing services for new construction, commercial roofs, including built-up, single-ply, and residential roofs, including composite shingle, shake and all types of tile. The firm now adds Solar Photovoltaics to their line-up and is powered by the nation's most strategic solar support and distribution company, Ambassador Energy, Inc.
Bardales continued, "We are way ahead of the game given our experience as roofers and Ambassador Energy's solar expertise. With the intensive training we have gotten from NABCEP certified instructors at AE's solar training facility in Southern California, we are able to launch head-first into our solar work and know that our customers are going to get the best design, products, service and pricing. We believe that our customers deserve a solid local solar company, instead of falling into the hands of nationwide companies who don't always have their best interest at heart. With AE as our back-end solar support partner and our knowledge of our community and clients, we are confident in our ability to help bring Los Angeles and the surrounding areas further into the solar movement."
To take advantage of the energy from the sun and get a no-obligation customized quote, contact Four Seasons Roofing.
About Four Seasons Roofing
Founded in 1996, Four Seasons Roofing has grown by word-of-mouth and referrals into one of Southern California's most reliable roofing companies.
About Ambassador Energy
Ambassador Energy [AE] has a three-pronged business model, including Ambassador Energy College Solar Training, the Ambassador Energy Agency Program and Ambassador Energy, an EPC contractor. On staff are NABCEP Certified PV Installers, NABCEP Certified PV Technical Sales professionals [Fulgham/Kelso] and multiple NABCEP EL graduates. AE Agencies are nationwide. Ambassador Energy EPC installs PV systems throughout California.
See us on Facebook.