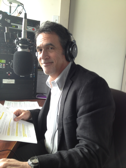 Medical Cannabis is proven to provide symptomatic relief to seniors with dementia.
Sonoma, CA (PRWEB) December 09, 2012
Local experts in the Bay Area suggest that cannabis helps patients with dementia, depression, arthritis, cancer, asthma and other diseases.
Frank Samson, founder of Senior Care Authority, hosts a weekly radio show on ksvy.org providing education to the "boomers" and their loved ones and wanted to try to get to the bottom of this controversial subject matter. Points made in this interview include:

Proven cures and symptomatic relief
Benefits to those diagnosed with Dementia
How the FDA looks at cannabis with seniors
Legal implications
Dependence
These points are discussed with a physician and attorney by going to The Aging Boomers.
Senior Care Authority provides assistance throughout California for those who want to full-service support to help families locate the best In-Home Care, Dementia Care, Independent and Assisted Living for their loved ones. The company has also developed a network, SCAnetwork, of professionals providing this service nationally.