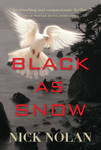 Nick Nolan examines radical evangelism, romance, gay exorcism, hate crimes, the paranormal and death...
Los Angeles, CA (PRWEB) February 01, 2012
A charismatic young messiah. Thousands gathered to hear his words. A single rifle shot. "Black as Snow" begins at the end, but then the story rewinds.
Casting a bisexual, superhuman hero amidst a wild spectrum of rag-tag characters, award-winning author Nick Nolan has created a bestselling fairytale set in today's volatile world. Discover how this modern day "Snow White" shuns his glittering lifestyle to find love and valor in the new novel "Black as Snow" (ISBN 9781612180052, AmazonEncore 2011).
Sebastian Black is not only handsome and charismatic, he's also telepathic—especially when his life is in danger or when someone craves his carnal companionship. And "Black as Snow" is crawling with people out to get him…in both respects. Because Sebastian's mother, prophetess Kitty Black, touts him as the "next species of man" and crowns him figurehead of their highly profitable "green" religious cult, Apocalypse-minded Christian militants chase Sebastian from his Century City penthouse into California's spectral coastal wilderness. But as Kitty's cash dwindles she begins scheming to lure Sebastian home by conspiring with his enemies—including a dashing young Spaniard who darkly mirrors Sebastian's preternatural talents and beauty.
Nick Nolan examines radical evangelism, romance, gay exorcism, hate crimes, the paranormal and death as Sebastian is befriended by seven "common" people who've been "dwarfed" by mainstream society: an aging lesbian couple; a methamphetamine addict; an elderly Mexican handyman; a vulnerable gay teenager; a dim-witted college jock; a lonely anorexic woman. Each character's recounting of the love they shared and the obstacles they overcame forces Sebastian to question his privileged lifestyle. But as the clock ticks backward to the beginning of the story, Sebastian's enemies draw closer and it's a race to find out if he can save himself and those he has grown to love.
Since "Black as Snow" Kindle climbed to #1 following its release in the United Kingdom, Nolan's latest novel has been hailed by literary critics. BOOKLIST states, "A modern and suspenseful saga of religious fanaticism, greed, and retribution…Nolan's ambitious tale revolves around the slickly handsome Sebastian, a perfectly drawn villainess of a mother, and a surprisingly nuanced cast of supporting characters…charming, thrilling." EDGE MEDIA declares, "An absorbing and compassionate thriller that ultimately ties all its strands together with dexterity and ease..." READER VIEWS praises, "It's not too often I get so grabbed by a book….each chapter ends with a cliff-hanger! Need I say more? I loved this book!!" NEW YORK JOURNAL OF BOOKS says, "A skillfully paced and plotted adult thriller (for readers who aren't afraid of open discussions of sex, religion, and politics) written by an up-and-coming author…" Nick Nolan's "Black as Snow" not only gives a well-worn fairytale new and thrilling perspective, it also examines contemporary society in "novel" ways.
About the Author
Nick Nolan, his partner Jaime, and their two beloved retrievers divide their time between a home in Los Angeles and a mountaintop cabin. Nolan's other modern fairy tales (and Book of the Year winners) are "Strings Attached" (AmazonEncore 2010) based upon Pinocchio, and "Double Bound" (AmazonEncore 2010) after Jack and the Beanstalk. The Sequel to "Black as Snow" is currently under construction.
"Black as Snow" (ISBN 9781612180052, AmazonEncore 2011) can be purchased in Kindle format or Paperback from Amazon.com, and in the United Kingdom at Amazon.uk.com. Website for "Black As Snow": http://www.nick-nolan.com. Facebook: http://www.facebook.com/pages/Black-as-Snow-by-Nick-Nolan/153538744737237?sk=wall Publicity contact: http://www.ReaderViews.com. Review copies available upon request.
###